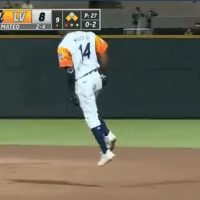 The Jorge Mateo does it all in Aviators comeback
By: Jered Justus
Jorge Mateo drove in the game winning run to cap off a four-run comeback in the bottom of the ninth inning to complete an epic Aviators comeback. In a scene straight from the pages of bad screenwriting, the Aviators entered the bottom of the ninth down three after going one-two-three in the eighth.
Then all the pieces came together, Sheldon Neuse, who was hitless going into the ninth, walked on seven pitches from Salt Lake closer Matt Ramsey. Then Beau Taylor, affectionately called the Walkman due to his propensity to land on base without swinging the bat, slapped a single to right. Eager swinging Franklin Barreto then was walked on five pitches by a shaken Ramsey.
Mark Payton, who ended the game with no hits, golfed a fly ball to the warning track. Neuse scored, and Payton was out, but Franklin Barreto tagged as did Beau Taylor.
Fran Riordan then went for the big guns, replacing Tyler Ramirez from recently returned Skye Bolt, who just returned from Oakland where he went 1 for 4. Bolt was too electric for Ramsey to handle, as Bolt was beaned setting up a one out bases loaded field for Dustin Fowler.
Fowler had scored earlier in the game on a Mateo homerun in the first that accounted for the only lead the Aviators would hold all game. Fowler grounded into right field, and Bolt, true to his namesake, went from first to third. Jorge Mateo was up.
Mateo had already made an incredible play in the top of the ninth snagging a comebacker that had slipped by closer Brian Schlitter, before launching it midstride Patrick Mahomes style to get the out. Mateo had already hit a triple in the sixth, his ninth of the season, putting him up five on the next closest player. He had already led off the night with a massive homerun.
First pitch: foul. Second pitch: foul. Third pitch: foul.
Fourth pitch:
Flying out of the dugout to celebrate, a 9-8 win, 4-run bottom of the 9th! What a flight! What a walk-off! pic.twitter.com/rlYOrwPzKg

— Las Vegas Aviators (@AviatorsLV) May 9, 2019
The walk off victory overshadows a night where Edwin Jackson, dusted off old age to have multiple three up three down innings, while giving up seven runs. Kyle Lobstein struck out four in two innings, while Wang and Schlitter both threw back-to-back perfect innings.
The incredible determination and outstanding play of the Jorge Mateo and the Aviators overshadowed everything on this windless, May night.
The Salt Lake Bees are back tomorrow at 7:05 p.m. and Russ Langer has the call on Sports 920 the Game.
Related News
Franklin Barreto named Pacific Coast League Player of the Month The 23-year-old infielder/outfielder has been red-hot since the start of June. Barreto hit .387 with nine home runs and 32 RBI over 24 games. The Aviators...

Read More
Tonight was the third game of the five-game series between intrastate rivals The Aviators, and The Aces. Las Vegas jumped out to a 4-0 lead early on but got into some trouble, as Reno tied it up...

Read More
The Aviators have now won four in a row including their first three games against The Fresno Grizzlies. Tonight they beat Fresno, 16-3 with contributions from pretty much everyone, most notably Jonah Heim. They have faired well...

Read More