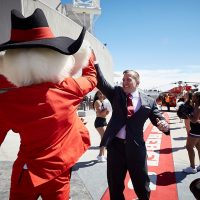 New UNLV head coach T.J. Otzelberger is facing his biggest recruiting weekend yet. After he whiffed on Caleb Grill earlier in the week, Otzelberger has chance to make a splash just a few days later.
According to the Las Vegas Review-Journal and the Las Vegas Sun, two transfers, David Jenkins and Elijah Mitrou-Long, will be visiting UNLV this weekend. Jenkins would be a landmark snag for the Rebels, and Otzelberger should have an inside track.
Jenkins averaged 19.7 points and shot 45.3 percent from three last season at South Dakota State with Otzelberger as his coach. That success, followed by Otzelberger taking the UNLV job, has Jenkins looking to transfer up.
UNLV will not be his first visit. Jenkins has already taken trips to Oregon and Gonzaga, leaving Otzelberger with major competition to land his former player. But UNLV is getting the final say, as Jenkins is expecting to commit shortly after he wraps up his time in Las Vegas.
Jenkins is a high-level scorer that would jumpstart the Otzelberger era, at least in year two. He would have to sit out the upcoming season as a transfer, then have two years to play.
But in year two, he would likely be the Rebels number one option on offense and a major talent upgrade, something UNLV needs if they are going to start challenging for NCAA Tournament appearances again.
Amauri Hardy is slated to be UNLV's best player this upcoming season. Hardy saw a massive jump in production from his freshman to sophomore year at UNLV. He improved his scoring averaged from 4.9 to 13.1 points per game. Even his three-point percentage jumped from 29.4 percent to 34.1.
But he is the only proven scorer on the roster. Bryce Hamilton is projected to be the number two option, but he scored just 4.3 points per game this past year. Junior college transfer Jonah Antonio did put up 11.3 points per game two seasons ago at Mount St. Mary's, but is primarily a catch-and-shoot option.
Jenkins would give Hardy a true running mate on offense, someone that could take Hardy's place as the go-to option on offense. If Otzelberger can find a way to make Hardy his third best player in 2020-21, UNLV will be a legitimate contender in the Mountain West.
Jenkins is the best option to help UNLV build the talent back up.
While UNLV will have to wait for Jenkins to become eligible, Elijah Mitrou-Long will be eligible as a graduate transfer next season. Mitrou-Long announced his plans to depart from Texas a week ago, which makes UNLV one of the early schools grabbing his attention.
At Texas, Mitrou-Long scored 5.6 points per game in 17.9 minutes. He played just one year as a Longhorn, after transferring in from Mount St. Mary's, where he was teammates with current Rebel, Jonah Antonio.
In his sophomore year at Mount St. Mary's, Mitrou-Long averaged 15 points per game while shooting 38 percent from three. At 6-foot-1, he would fit in the Rebel backcourt for 2019-20.
If T.J. Otzelberger wants to play a four-guard lineup, he will need to keep adding backcourt options. As it stands, the top four guards are Hardy, Hamilton, Antonio and Trey Woodbury, with Marvin Coleman or Jay Green being the next best choices.
Mitrou-Long would likely slot into the starting lineup and give the Rebels more options in the backcourt for small lineups predicated on shooting and spacing.
It is a massive weekend for the present and future of the Otzelberger era. If UNLV ends up with two new players after the weekend visit, the program will be able to set its sights higher in year one and beyond.
Related News
Las Vegas got a big win today over a formidable opponent, the Minnesota Lynx, to improve to 12-6. A'ja Wilson's absence was felt, especially in the 2nd half, but the ladies pulled it together for a much...

Read More
By: TC Martin Manny Pacquiao displayed once again that age isn't nothing but a number.  The 40 year old senator from the Philippines out-punched and out-classed a younger Keith Thurman earning a split decisions victory in front...

Read More
Two of the best seven running backs in the NFL want new contracts. The NFL doesn't seem value RB's anymore. Something has to give. Zeke Elliott and Melvin Gordon want more security. Do they have the right...

Read More