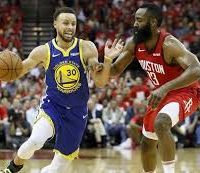 By: TC Martin
When Kevin Durant hobbled over to the Golden State Warriors bench in the third quarter of Game 5 of their series against the Houston Rockets, there was concern for the superstar by his teammates but there was no panic.  That is because they truly believe in the slogan they wear on their warm up shirts "Strength in Numbers."
Playing without arguably the best player in the NBA, the Warriors did what the Warriors usually do. They rallied with the next man up mentality and defeated the Rockets 104-99 last Wednesday night. That was only the beginning.
​On Friday night, not many gave the Durant-less Warriors much chance as they were seven point underdogs. With Stephen Curry held scoreless in the first half, the Warriors were tied at halftime.  Curry exploded with 33 in the second half including 23 in the fourth quarter to propel his team to a 118-113 victory and eliminate the Rockets once again.  This time it happened on Houston's home court.  A place where they were undefeated during this postseason.
​As Curry received a standing ovation from his teammates and coaches in the locker room after his Game 6 heroics, the team in the other changing quarters down the hall found themselves in a familiar place, losing to the Warriors in the playoffs for the fourth time in the last five years.  It wasn't just Curry, it was a total team effort.  Head Coach, Steve Kerr used 11 players in the first quarter to set the tone that everyone needed to contribute.
​This type of Golden State resiliency is nothing new for this team as they have played several key playoff games in the past without one of its core players, including: Draymond Green, Klay Thompson, Andre Iguodala, DeMarcus Cousins, and Curry.  Let's not forget before there was the "Hampton 5", there was the "Big 3" which is what Curry, Thompson and Green were referred to in the early stages of this championship dynasty.
​The Warriors now return home to await the winner of the Portland – Denver series as they will have their Game 7 battle Sunday. Durant will rest and continue to get treatment and hopefully join his team in the next round.  However, if he isn't ready to go, the champs will be ready to go and follow their slogan once again.
FOR IMMEDIATE RELEASE MAY 26, 2020 NHL ANNOUNCES RETURN TO PLAY PLAN FOR 2019-20 24 Teams Will Restart Play, Compete for Stanley Cup 2 "Hub" Cities Will Play Host to Games Protocol for Players' Return to...

Read More
We will go deep into the vault to bring you classic ESPN Las Vegas Videos.  Some of these videos are from over a decade ago. Ballpark Frank (you will hear his voice) and Darian Cozier...

Read More
Here are some links to resources that may help you stay informed and knowledgeable. https://nvhealthresponse.nv.gov/ https://www.cdc.gov/coronavirus/2019-ncov/index.html www.southernnevadahealthdistrict.org/coronavirus. https://sites.google.com/nv.ccsd.net/covid-19updates/home#h.au7wl6jpawt9 Also if you are able to help, threesquare is doing great work here locally in...

Read More