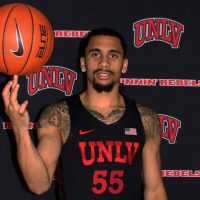 T.J. Otzelberger has added another guard to his roster, as Elijah Mitrou-Long announced on Twitter that he is coming to UNLV.
Mitrou-Long will be eligible immediately as a graduate transfer, giving the Rebels an instant boost in the backcourt.
This will be the 6-foot-1 guard's third different school. He began his career at Mount St. Mary's, where he was teammates with current Runnin' Rebel, Jonah Antonio. In two seasons with the Mountaineers, Mitrou-Long averaged 5.6 points and then 15 points per game.
Then he transferred to Texas. After sitting out a season, Mitrou-Long scored 5.6 points per game for the Longhorns. He made nine starts and averaged 17.9 minutes per game.
Mitrou-Long will give the Rebels another ball handler, to help take the load off of Amauri Hardy's shoulders. In his sophomore year at Mount St. Mary's, Mitrou-Long led the team in assists with 4.4 per game.
He should also fit into Otzelberger's desire for shooting, as his career three-point percentage is 35.1.
Mitrou-Long was on a visit to UNLV over the weekend with David Jenkins, T.J. Otzelberger's former player at South Dakota State. Jenkins is expected to announce his decision later this week.
With Mitrou-Long on board, the Rebels are down to one available scholarship.
It is pretty much official that the remaining NBA season games will be happening only in Orlando, not Vegas. Dave McMenamin (ESPN – NBA) joined us on Cofield & Co. to explain why Orlando is the better...

Read More
There is usually a reliable source involved when big NFL news arises. Adam Schefter is often that source. We got a chance to talk to the ESPN NFL insider on Cofield & Co. today to talk about...

Read More
Justin Watkins joins us weekly on Cofield & Co. to break down the latest legal cases in sports and news. This week, we had a lot of questions for Justin on the murder of George Floyd by...

Read More