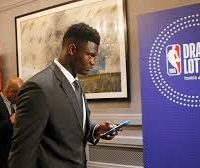 By: TC Martin
The Zion Wiliamson sweepstakes was held Monday night and the NBA got what it wanted with a drama filled Draft.Lottery.  Changing it's format to create excitement for a 30 minute pregame show prior to the Warriors – Blazers game and trying to halt bottom feeder teams from tanking late in the season, the NBA wanted to make the odds a little more even for non-playoff qualifying teams with a chance at the top overall pick.
​The New Orleans Pelicans won the right to select the Duke big man despite having only an 11% chance.  The New York Knicks and Phoenix Suns had the best opportunity at 14% with the poorest records but came up with 3rd and 6th pick respectively.  The Suns were the biggest losers, having the second worst record and only receiving the sixth selection in the June draft.
​It's a shame that the NBA cant be like the NFL or Major League Baseball and reward the teams who truly stink.  That's why the draft order was in place from the beginning of time.  Create a level playing surface and attempt to give the league competitive balance.  By making a separate TV show that more resembles a game show while not rewarding the team with the worst record, the league will continue to be scrutinized.
JT THE BRICK TALKS TO VEGAS GOLDEN KNIGHTS GM, KELLY McCRIMMON ABOUT THE FIRING OF GERARD GALLANT, THE UPCOMING TRADE DEADLINE, AND MORE…...

Read More

JT THE BRICK WITH KELLY McCRIMMON 01/29/20

JT The Brick
Las Vegas Raiders President Marc Badain joined The Press Box Morning Show, with Clay Baker and Ryan McKinnell, and expounded on the busy week as they officially announced the new team logo and team name, Las Vegas...

Read More
All Golden Knights fans will be able to place a $50 per seat season ticket deposit beginning now by visiting http://vgk.io/ahl-vegas. Season ticket deposits are refundable. Current Vegas Golden Knights ticket members who place a deposit will...

Read More