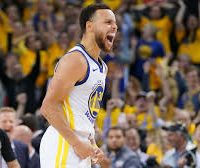 By: TC Martin
The Golden State Warriors and Stephen Curry picked up right where they left off in Houston with an easy one-sided victory over the Portland Trail Blazers 116-94 in Game 1 of the Western Conference Finals.
Curry, who had all of his 33 points in the second half in eliminating Houston last Thursday, spread out his production this time knocking down nine 3-pointers in tallying 36 points to pace the two-time defending champions.  Without Kevin Durant for the second consecutive game, Curry and Klay Thompson led the charge with a calm yet clinical demeanor in routing Portland.
Despite not having Durant, it was a perfect spot for Golden State.  They had three extra days of rest while Portland had an emotional come from behind victory at Denver on Sunday and traveled straight to Oakland without having any practice or even a shoot-around.  The Blazers looked out of sync with 21 turnovers and played with very little urgency.
Portland will have to regroup quickly as Game 2 is Thursday night.  The Blazers are now 1-9 vs Golden State in the playoffs.
JT THE BRICK TALKS TO VEGAS GOLDEN KNIGHTS GM, KELLY McCRIMMON ABOUT THE FIRING OF GERARD GALLANT, THE UPCOMING TRADE DEADLINE, AND MORE…...

Read More

JT THE BRICK WITH KELLY McCRIMMON 01/29/20

JT The Brick
Las Vegas Raiders President Marc Badain joined The Press Box Morning Show, with Clay Baker and Ryan McKinnell, and expounded on the busy week as they officially announced the new team logo and team name, Las Vegas...

Read More
All Golden Knights fans will be able to place a $50 per seat season ticket deposit beginning now by visiting http://vgk.io/ahl-vegas. Season ticket deposits are refundable. Current Vegas Golden Knights ticket members who place a deposit will...

Read More