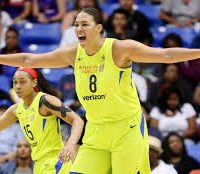 By: TC Martin
The Las Vegas Aces have made some big off season moves but none bigger than getting 2018 MVP runner up, Liz Cambage in a trade with the Dallas Wings.  Cambage, who is 6'8″, is a two-time All Star and the most dominant post player in the WNBA.
​Cambage scored a WNBA record high 53 points in a contest last year, while leading the league in scoring at 23 points per game.  She was second in rebounding (9.7) and finished fourth in the WNBA in field goal percentage (58.9%) and fifth in blocked shots (1.7),
In exchange, the Wings receive point guard Moriah Jefferson, forward Isabelle Harrison, and the Aces first and second round draft picks in 2020.  The move makes the Aces a legitimate playoff contender and visions of teaming Cambage and WNBA Rookie of the Year. A'ja Wilson together can be nightmare for opposing teams.  This gives the Aces the most imposing front court in the league.
​Cambage does bring some past issues with her as she has taken off seasons and was planning on doing so this year if she remained in Dallas.  Not wanting to play for the Wings any longer, she forced the hand in the trade.  Aces General Manager Dan Padover believes that may only get one year of having her as a member of the Aces but are hoping they can prove to her that this could be a great long-term situation for both parties.
​Before being drafted as the second overall pick in 2011, she left the WNBA to concentrate on playing for her native Australian National Team and prepare for the Olympic Games in 2012.  After returning in 2013, she left the WNBA again for four years to play professionally in Australia.  and China.  She came back last season, only to threaten to sit out gain this year.
​If Cambage is committed, this could be a wonderful addition for the Aces.  If not, this could be just another tour stop for one of the most talented players in the league.
The Aces begin play this Sunday with an exhibition game against the Minnesota Lynx.  Game time is 12:30 pm at UNLV's Cox Pavillion.  The regular season opener is Sunday, May 26th at 5:00 pm at the Mandalay Bay Events Center.  Cambage isn't likely to be available for the exhibition game but hopeful for the season opener
FOR IMMEDIATE RELEASE MAY 26, 2020 NHL ANNOUNCES RETURN TO PLAY PLAN FOR 2019-20 24 Teams Will Restart Play, Compete for Stanley Cup 2 "Hub" Cities Will Play Host to Games Protocol for Players' Return to...

Read More
We will go deep into the vault to bring you classic ESPN Las Vegas Videos.  Some of these videos are from over a decade ago. Ballpark Frank (you will hear his voice) and Darian Cozier...

Read More
Here are some links to resources that may help you stay informed and knowledgeable. https://nvhealthresponse.nv.gov/ https://www.cdc.gov/coronavirus/2019-ncov/index.html www.southernnevadahealthdistrict.org/coronavirus. https://sites.google.com/nv.ccsd.net/covid-19updates/home#h.au7wl6jpawt9 Also if you are able to help, threesquare is doing great work here locally in...

Read More