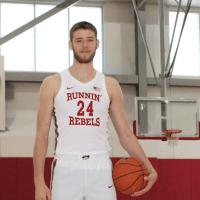 T.J. Otzelberger landed his second graduate transfer of the week, with the addition of Vitaliy Shibel.
Shibel joins Elijah Mitrou-Long as this week's Runnin' Rebel commits.
Unlike Mitrou-Long, Shibel will have two years of eligibility left starting in 2019-20. He was at Arizona State for three years, but only played in two seasons, as he redshirted his first season, then suffered an injury that caused him to miss most of last season.
In 49 career games, Shibel scored 65 points. His career high was against St. John's in 2017, when he scored 11 points.
Shibel will add depth to the frontcourt. As of now, the Rebels only power forward is Nick Blair. Shibel will be able to provide minutes at the four and possibly the five in small ball lineups.
Shibel only made 13 of his 51 (25.5%) threes at Arizona State, but Otzelberger expects him to provide some shooting from the frontcourt.
"He has valuable experience as a starter in a winning, successful program and has the ability to shoot from the outside as well as play inside because of his unique combination of size and skill," Otzelberger said in a statement.
SCHEDULE UPDATE
UNLV also added Kansas State to the non-conference schedule, according to Jon Rothstein. 
UNLV will host the Wildcats this season, then make the trip to Manhattan, Kansas in 2020.
Here is the current 2019 non-conference schedule:
BYU (Salt Lake City)
at Cinicinnati
at Cal
at UCLA
Kansas State
You can hear more about Shibel and the Rebels schedule on today's edition of Technically Correct by clicking here.
Related News
Las Vegas got a big win today over a formidable opponent, the Minnesota Lynx, to improve to 12-6. A'ja Wilson's absence was felt, especially in the 2nd half, but the ladies pulled it together for a much...

Read More
By: TC Martin Manny Pacquiao displayed once again that age isn't nothing but a number.  The 40 year old senator from the Philippines out-punched and out-classed a younger Keith Thurman earning a split decisions victory in front...

Read More
Two of the best seven running backs in the NFL want new contracts. The NFL doesn't seem value RB's anymore. Something has to give. Zeke Elliott and Melvin Gordon want more security. Do they have the right...

Read More