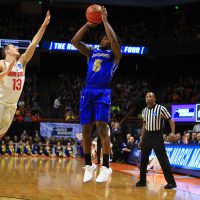 T.J. Otzelberger has landed one of the best transfer in college basketball, as David Jenkins committed to UNLV.
Jenkins averaged 19.7 points per game and shot 46 percent from three last season at South Dakota State, where Otzelberger was his head coach. That relationship has paid off for the Rebels, as Jenkins picked UNLV over Gonzaga and Oregon.
The 6-foot-2 guard will have to sit out the upcoming season, but will have two years of eligibility remaining starting in the 2020-21 season.
Jenkins joins a Rebel recruiting class full of transfers, with Jonah Antonio (South Plains College), Moses Wood (Tulane), Elijah Mitrou-Long (Texas) and Vitaliy Shibel (Arizona State).
YEAR TWO
Jenkins was the top priority for T.J. Otzelberger this offseason. He is the most talented player Otzelberger could have brought to UNLV. While he won't help this season, Jenkins should jumpstart the program in year two.
Otzelberger's second season is likely the year the Rebels make a push for the NCAA Tournament. From a roster standpoint, UNLV will be poised to make a run at the Mountain West title.
Jenkins and Amauri Hardy should team up to be one of the best back courts in the conference, while Jonah Antonio, Bryce Hamilton, Mbacke Diong and Moses Wood will provide strong depth scoring.
UNLV will likely need one more player to join Hardy and Jenkins as a big three. But the quality should be there for UNLV to have one of the top rosters in the Mountain West in 2020-21.
The schedule is also shaping up to be an NCAA Tournament worthy slate.
UNLV will head to Maui, where they will play three games against high quality opponents. Plus, games against SMU, Kansas State, UCLA and Cal are already locked in for the 2020 non-conference schedule.
That is seven games on the books that have the potential to improve UNLV's metrics (Ken Pom and NET) for the NCAA Tournament selection committee. That leaves six open spots on the schedule if UNLV feels it needs to add on more.
POTENTIAL 2020-21 STARTING LINEUP
PG Amauri Hardy
SG David Jenkins
SF Bryce Hamilton
PF Moses Wood
C Mbacke Diong
2020 NON-CONFERENCE SCHEDULE
at Kansas State
at SMU
UCLA
Cal
Maui Invitational
There are a lot of big games coming up as we approach week 4 of College Football. ESPN TV and radio host, Jason Fitz tells us why it's gonna be a long day for Notre Dame, as...

Read More
The Tony Sanchez Radio Show – 18 Sept 2019 Caleb and Coach Sanchez recap the Northwestern Game and examine how the Rebels will prepare during this early bye week....

Read More

Bye Week Bullies and Havoc Plays

Coach Sanchez Show
We are only three weeks into the season, but UNLV's offense has already cracked. The Rebels rank 99th in S&P+, the lowest they have been in the Tony Sanchez era. UNLV was held to 17 points by...

Read More