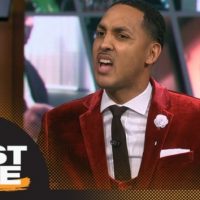 The former NBA player said that it had to be done.
Magic Johnson was brought in and set up to fail by L.A. owner Jeanie Buss.
After hearing his name bashed for six weeks, Hollins said the Lakers' legend had to defend his good name.
And what about LeBron James role in all of this Lakers' dysfunction?
Hollins said LeBron's people told him that he's in Los Angeles to stay, but that he's going to lay back and let GM Rob Pelinka do his job.
Photo courtesy ESPN.com
It's that time of year when we get to really see which NFL teams look like they could go far in the playoffs. Stanford Routt is a former NFL cornerback and one of our Raiders insiders. He...

Read More
It's that time of year when we get to really see which NFL teams look like they could go far in the playoffs. Stanford Routt is a former NFL cornerback and one of our Raiders insiders. He...

Read More
It's that time of year when we get to really see which NFL teams look like they could go far in the playoffs. Stanford Routt is a former NFL cornerback and one of our Raiders insiders. He...

Read More