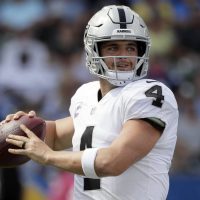 Apparently during the off season, Raiders Quarterback Derek Carr heard and read the criticism that normally comes from a 4-12 campaign.  Stories ranging from a return on investment on Carr's $125 Million salary to the Raiders looking at drafting a QB in April.  However, it doesn't appear the negativity is being taken too seriously as Carr spoke out following the first day's of OTA practices in Alameda.
"Honestly, it got annoying after a while because I'm like, 'They have nothing else to talk about.' And I didn't
help the situation trying to challenge people to fights. (laughter). But to be honest with you, the owner [Mark
Davis], the [General Manager Mike Mayock] the GM, the head coach and the quarterback, I don't know about
other places, but here, we're all on the same page."  Listen below to the full audio of Carr's response to how confident he feels in the Raiders present and future plans.
It was much ado about nothing as newly acquired Raiders WR Antonio Brown was absent from the first day of Raiders OTA's, however returned to the Raiders facility on Wednesday.  To which end, Carr remarked on looking forward to Brown's ability to stretch the field as the Raiders primary receiver.  "Watching these guys run these routes and watching how they break, you definitely
take a look at it, especially with 'AB'. The success that he and Ben [Roethlisberger] had, you'd be silly not to see
what they did. I'd be a fool to say, 'Ah, no, let's do it our way.' No, let me see what you all did good, because we
can do the same things here, you're just wearing a different color."
(Photo Credit:  Review-Journal)
Acclaimed Comedian and Renowned Impressionist. Frank Caliendo joined Ed and Clay on The Press Box Morning Show and discussed his various voices, like Raiders Coach Jon Gruden and how the ability to quickly create voices causes both...

Read More
Throughout the Tony Sanchez era, UNLV has scored points. The offense has never been the reason UNLV failed to make a bowl game. But after a 31-13 loss to Boise State, UNLV has been held under 20...

Read More
In Melbourne, two-division UFC champion Henry Cejudo spoke to Helen Yee and The Schmo about what's next for him. Video below....

Read More