With increased competition from New Jersey, Nevada sports books are trying to up their game when it comes to offering exotic proposition bets.
The latest attempt comes from our pals at the Westgate's SuperBookUSA.
Brooks Koepka career major wins by 5/3/2040 prop

7.5 Over +130 Under -150

now available @SuperBookUSA

— Jeff Sherman (@golfodds) May 21, 2019
Brooks Koepka has already won four majors.
He'll need to double that total by the time he's 50. Can he do it? Sure, it's a possibility. Is this something you'd actually bet? If you bet the under and it comes in? You'll get paid in May of 2040.
It's a cool idea for a prop bet, but who wants to lock up their bucks for that long? This tweeter is outraged by the bet.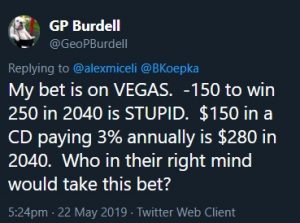 Cofield and Company's Adam Hill says SuperbookUSA will get some bets on this, but it'll be mostly of the novelty ilk.
Photo courtesy Golf.com
Nov. 23, 2020 The Chiefs got the best of the Raiders on Sunday's rematch game, despite a heck of a performance from Las Vegas and Derek Carr. Eric Eager (PFF analyst) joins us weekly on Cofield &...

Read More
Nov. 23, 2020 The Chiefs got the best of the Raiders on Sunday's rematch game, despite a heck of a performance from Las Vegas and Derek Carr. Eric Eager (PFF analyst) joins us weekly on Cofield &...

Read More
Nov. 20, 2020 The Raiders are looking to beat the Chiefs for the second time this season. Can they pull it off? Soren Petro (810 WHB – KC) joined us on Cofield & Co. to break down...

Read More