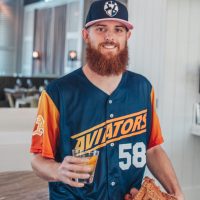 Aviators and Isotopes combine for 7 no-hit innings in 1-0 extra innings walk-off win
By Jered Justus
The lowest scoring game in the short history of the Las Vegas Ballpark was one of the fastest paced. A game where the total hits between both teams could be counted on one hand, two Aviators soared above: starting pitcher Paul Blackburn and third baseman Sheldon Neuse.
Paul Blackburn threw seven scoreless innings with seven strikeouts. Blackburn only allowed six men on base all night with his defining moment of the night coming in the seventh inning. After Isotope second baseman, Garrett Hampson broke the no hitter, Blackburn walked Sam Hillard. A one out sac fly put Hampson in scoring position. Blackburn threw Roberto Ramos three straight Curveballs to escape the inning.
Aviators' relievers Miguel Romero and J.B. Wendelken combined for 3 addition scoreless innings. With third baseman coming up with a fantastic defensive play in the top of the 10th to keep the scoreboard showing bagels. In the bottom of the 10th, after Corban Joseph struck out, Sheldon Neuse dropped a clutch 1-1 single into center field to allow Paul Brown to score.
https://twitter.com/AviatorsLV/status/1131788360081498112
"Fran Riordan's arm might be strained with how he was wind milling Brown around third," Aviators' Broadcaster Russ Langer remarked.
Corban Joseph accounted for 50 percent of all the Aviators hits. He also broke up the Chi Chi Gonzalez's no hitter in the bottom of the seventh.
This was the 21st sell out at the Las Vegas Ballpark, with an announced attendance of 10,452.
This three-game winning streak is the longest winning streak for the Aviators since their historic open to the season. The final game of the homestand is May 24 with the pregame starting at 6:50 with Russ Langer on the call on Sports 920 the Game.
Agree or disagree, this list was compiled based on impact on the franchise. Could have been by the value of where the Raiders picked (a 5th rounder who shined is going to be raised up higher than...

Read More
Here's a list of the top 50 Draft Picks in Pro Football history, of course, some may disagree: We will update every day as we approach the draft. Number 25 – Ray Nitschke Nitschke was a three-time...

Read More
Here are some links to resources that may help you stay informed and knowledgeable. https://nvhealthresponse.nv.gov/ https://www.cdc.gov/coronavirus/2019-ncov/index.html www.southernnevadahealthdistrict.org/coronavirus. https://sites.google.com/nv.ccsd.net/covid-19updates/home#h.au7wl6jpawt9 Also if you are able to help, threesquare is doing great work here locally in...

Read More