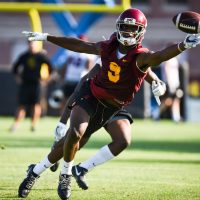 Randal Grimes spent the last two years at USC, but after injuries and limited playing time, he decided to transfer to Minnesota.
That is until Tony Sanchez swooped in and stole him this week.
Grimes announced last night that he will be leaving Minnesota and transferring back home to UNLV. The wide receiver went to USC out of Desert Pines High School in Las Vegas, where he was a three star recruit.
Despite playing last season, UNLV is hopeful Grimes will be eligible immediately with a waiver from the NCAA.
Grimes tweeted, "Just wanted to clarify that me being able to play this year is in the works of happening!!!!"
If he is eligible, Grimes will fill in at a thinning wide receiver position. Leading receiver Brandon Presley is out for the year with an ACL tear. Plus Jordan McCray had committed to UNLV as a transfer from South Alabama. But he elected to change course and go to Oklahoma State in April.
Sanchez snagging Grimes from Minnesota set Golden Gopher head coach P.J. Fleck off. At a coaches caravan earlier this week Fleck declared there is a societal problem.
"I have a rule: You commit to me, you can't go see another place. Not because I'm insecure. But if you want to be committed, you're going to be committed. Too many people teach young people to be committed but also one foot in and one foot out. … You've got to be all in," Fleck told the Star Tribune.
Fleck continued: "We have a problem in our society. We don't have a problem in our program."
P.J. Fleck was a coach at five different schools over an eight year period from 2006-2013.
Agree or disagree, this list was compiled based on impact on the franchise. Could have been by the value of where the Raiders picked (a 5th rounder who shined is going to be raised up higher than...

Read More
Here's a list of the top 50 Draft Picks in Pro Football history, of course, some may disagree: We will update every day as we approach the draft. Number 27 – Richard Dent Dent was a four-time...

Read More
Here are some links to resources that may help you stay informed and knowledgeable. https://nvhealthresponse.nv.gov/ https://www.cdc.gov/coronavirus/2019-ncov/index.html www.southernnevadahealthdistrict.org/coronavirus. https://sites.google.com/nv.ccsd.net/covid-19updates/home#h.au7wl6jpawt9 Also if you are able to help, threesquare is doing great work here locally in...

Read More