Tony Sanchez landed a big score this week with the addition of wide receiver Randal Grimes, a trasnfer from USC.
Grimes had committed to Minnesota, but then changed his mind and landed in the Rebels' lap.
The 6-foot-4, 210-pound Grimes is from Vegas and play his high football at Desert Pines.
Prep  guru Willie Ramirez joined Cofield & Co. to talk about Grimes background and versatility on the field.
He said Grimes is that big target Sanchez has been looking for since the graduation of Kendall Keys.
The roster also took hits recently with Brandon Presley suffering a torn ACL, and Jordan McCray changing his mind and bolting for Oklahoma State.
Grimes wasn't the only WR added to the roster. UNLV also picked up JUCO wideout Jacob Gasser.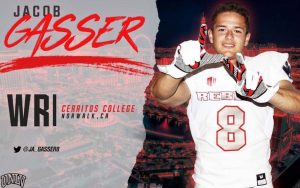 From UNLV Athletics:
Gasser is the only junior college receiver in the class and the Los Alamitos, California, native played two seasons at Cerritos College in Norwalk, California. The graduate of Los Alamitos High School competed as a freshman for Cerritos in 2016, received a medical redshirt after being injured in 2017 and played as a sophomore last fall. He totaled 65 catches for 1,129 yards and four touchdowns during his time with the Falcons. Also a track standout, the speedster competed in the 100-meter, 200-meter, 400-meter and relay races in both high school and junior college.

"Jacob Gasser is an extremely fast athlete – he ran a 10.6 100-meters – who has outstanding ball skills," said Sanchez. "He brings with him a lot of game experience after being very productive at the JUCO level and will compete for time immediately."

UNLV's overall 2019 recruiting class is now made up of 12 high school players, 11 junior college transfers and one four-year transfer. The breakdown also sees 13 defensive players and 11 on offense: 5 DL, 5 DB, 4 WR, 4 OL, 3 LB, 2 RB and 1 QB.
Grimes photo courtesy USCFootball.com
Nevada Head Coach Jay Norvell joined JT today to share his powerful message in wake of the recent events across the country. This interview is worth your time. Here is Norvell's statement from earlier today via the...

Read More

JT's Powerful Conversation with Jay Norvell

JT The Brick
While the MLB owners and players work out their issues, the season and possibly the fate of the league hangs in the balance. Bob Nightengale (USA Today – MLB) joined us on Cofield & Co. to discuss...

Read More
While the MLB owners and players work out their issues, the season and possibly the fate of the league hangs in the balance. Bob Nightengale (USA Today – MLB) joined us on Cofield & Co. to discuss...

Read More