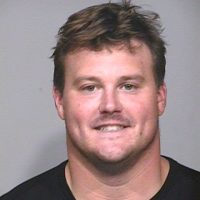 In a surprising move, the Raiders signed veteran guard Richie Incognito to a one year contract on Tuesday.  Incognito, 35, hasn't played since the 2017 season and the acquisition has many writers and analysts asking "What?  Why?" considering the embattled guard's strange and controversial behavior.
The four-time Pro Bowler's career began to derail in 2013 when he was suspended for "bullying" and harassing team mate Jonathan Martin for his homosexuality.  However, when it appeared to have a career resurgence with three years in Buffalo, Incognito was cited in two, bizarre off-field incidents which spoke to his personal battle with mental illness.
After failing to report to workouts in April of 2018 and listed as retired, Incognito was arrested and sent for a psych evaluation after throwing dumbbells and screaming at patrons at a Boca Raton gym, insisting to police that he was under contract by the National Security Agency and that another member was spying on his with headphones.    "I'm running NSA class level 3 documents through my phone," Incognito told authorities last May.
Just ten months ago, Incognito was arrested following an outburst at funeral home following his father's death.  A police report detailed that Richie was emotional and unstable from actions that included punching coffins and demanding his dad's head to be decapitated and taken for research.
We need only to look at the 2013 Welles report, in which Incognito explained he's long suffered from depression, "I have really severe depression. There are many instances where I can't get out of bed. … I'm really embarrassed to  talk about it with anyone in person, I tried to with you when I was home but I couldn't do it. I've managed to keep it under control for the most part on my own. Anyways, I really do wanna take care of it, because it is debilitating & keeps me from reaching my potential in all facets of life.
Make no mistake, the Raiders want Richie Incognito to be a part of the starting offensive line alongside Kolton Miller on the left side.  Following the signing, General Manager Mike Mayock spoke to reporters and remained confident the team can provide a support system to help Richie.  When asked about adding Incognito to a group of high-character guys taken in the NFL Draft, Mayock simply stated that  "You can't have all boy scouts.
FOR IMMEDIATE RELEASE MAY 26, 2020 NHL ANNOUNCES RETURN TO PLAY PLAN FOR 2019-20 24 Teams Will Restart Play, Compete for Stanley Cup 2 "Hub" Cities Will Play Host to Games Protocol for Players' Return to...

Read More
We will go deep into the vault to bring you classic ESPN Las Vegas Videos.  Some of these videos are from over a decade ago. Ballpark Frank (you will hear his voice) and Darian Cozier...

Read More
Here are some links to resources that may help you stay informed and knowledgeable. https://nvhealthresponse.nv.gov/ https://www.cdc.gov/coronavirus/2019-ncov/index.html www.southernnevadahealthdistrict.org/coronavirus. https://sites.google.com/nv.ccsd.net/covid-19updates/home#h.au7wl6jpawt9 Also if you are able to help, threesquare is doing great work here locally in...

Read More