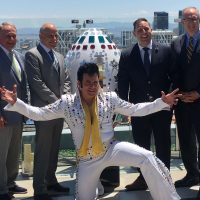 Beginning in 2020, the Las Vegas Bowl will be played in the new, Las Vegas Stadium and will showcase a team from the Pac-12 Conference against teams from a rotation of the SEC and Big Ten Conferences, in a six year deal, beginning in 2020.
"We are pleased to add the Las Vegas Bowl to the SEC Bowl Lineup," SEC Commissioner Greg Sankey stated.  "We enjoy great relationships with some of the best bowl games in College Football.  With the addition of the Las Vegas Bowl, the SEC provides a new destination for our students and fans and in a much-anticipated match up with a Pac-12 Conference opponent."   That statement was also shared by Pac-12 Commissioner Larry Scott who noted this game will provide for the first time ever, they will have a scheduled bowl game with the SEC.
The new agreement will run from the 2020 game through the 2025 game and the Las Vegas Bowl will be moved to a post-Christmas date for the first time.  During those years, the Las Vegas Bowl will get the number 2 selection (after the College Football Playoff selection) from the Pac-12 and share that position with the Holiday Bowl.
The Las Vegas Bowl will share a spot with the Belk Bowl in the SEC "pool of six" that follows the College Football Playoff and Citrus Bowl selections and host a team here in 2020, 2022, 2024.  Likewise, this bowl will share a Big Ten spot with the Music City Bowl after the CFP, Citrus, and Outback selections and host in 2021, 2023, 2025.
For years, the Las Vegas Bowl was played at Sam Boyd Stadium and now it moves to the $1.8 Billion Las Vegas Stadium that will offer around 65,000 seats and 128 suites.
Las Vegas Raiders President Marc Badain joined The Press Box Morning Show, with Clay Baker and Ryan McKinnell, and expounded on the busy week as they officially announced the new team logo and team name, Las Vegas...

Read More