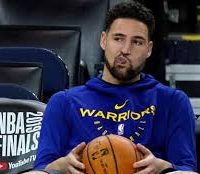 By: TC Martin
The Golden State Warriors won Game 2 in Toronto but they may have lost the war that night.  After Klay Thompson and Kevon Looney were injured, the already hobbled champs were seriously wounded moving forward.
​Steve Kerr and the Golden State medical staff ruled Thompson out for Game 3 joining Looney and Kevin Durant, making it virtually impossible for the Warriors to be competitive.  The result was an expected one with Toronto defeating Golden State 123-109 Wednesday night in Oakland.
​Thompson desperately wanted to play and felt he could but the Warriors took a very cautious approach.  The severity of Thompson's hamstring injury is unknown but the feeling is, that it might not be that bad if they are talking about playing him in Game 4 Friday night.
You never want to put a player's future in jeopardy but this type of injury takes a long time to completely heal and if can somehow play through the discomfort, he will have at least four months to fully recover.  This is the NBA Finals and this is what you play for.
​Durant is believed to be available for Friday night but no one knows how effective he will be once he returns.  Looney has a fracture in this chest so he is done.  With a hobbled Thompson and Durant, the Warriors have a chance.  Without them they virtually have none.
​The Raptors shot the ball extremely well and got great performances from Kawhi Leonard and Kyle Lowry.  When you shoot 52% from the field and 95% at the free throw line you are going to win just about every game.
For the Warriors, Stephen  Curry had a superman performance  with 47 points, 8 rebounds and 7 assists and it wasn't enough. The Champs have their backs against the wall for the first time in this postseason and face a must-win game on Friday.  We will see who will join Curry, not only in the starting lineup but in the superhero department.
​
Related News
WBC welterweight champion Shawn Porter will be fighting IBF welterweight champion Errol Spence on Saturday, September 28. At Barry's Boxing Gym, he spoke to Helen Yee of Eyes On The Game about his upcoming fight, his karaoke...

Read More
We are only three weeks into the season, but UNLV's offense has already cracked. The Rebels rank 99th in S&P+, the lowest they have been in the Tony Sanchez era. UNLV was held to 17 points by...

Read More
At the TC1 Gel booth during the Olympia Expo, UFC flyweight Paige VanZant spoke to Helen Yee about various topics. Video below....

Read More