Craig Kimbrel to the Cubs and Dallas Keuchel joining the Braves has garnered big headlines, but what does it mean at the betting window?
ESPN asked if Keuchel pushes Atlanta to the top of the NL East.
The bean counters at Liberty Media — the team's owners who have run the franchise more like a real estate company than a baseball team in recent seasons — agreed to find $13 million to convince free agent Dallas Keuchel to pitch the rest of the season in Atlanta.

The Braves rotation ranks 17th in the majors in ERA. Over its past eight games, the rotation has posted an MLB-worst 6.30 ERA, perhaps ramping up the urgency to sign Keuchel as Mike Foltynewicz in particular continues to struggle.

Keuchel should bolster this group and certainly will add depth once he gets ready (he'll take a physical on Friday and will start in Triple-A this weekend). Keuchel also could provide some needed length to games. The Braves have struggled to go deep into games, averaging just 5⅓ innings per start. Keuchel averaged over six innings per start with the Astros last year and went seven innings or more in 11 of his 34 starts.
At William Hill, the Braves moved slightly from +185 to win the NL East at the start of the week.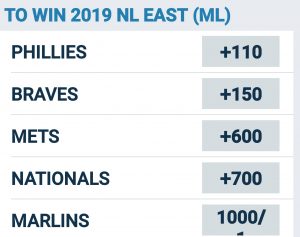 The Cubs moved from +150 to +120 to win the NL Central after the signing of Kimbrel.
Photo courtesy Atlanta Journal Constitution
Related News
Agree or disagree, this list was compiled based on impact on the franchise. Could have been by the value of where the Raiders picked (a 5th rounder who shined is going to be raised up higher than...

Read More
Here are some links to resources that may help you stay informed and knowledgeable. https://nvhealthresponse.nv.gov/ https://www.cdc.gov/coronavirus/2019-ncov/index.html www.southernnevadahealthdistrict.org/coronavirus. https://sites.google.com/nv.ccsd.net/covid-19updates/home#h.au7wl6jpawt9 Also if you are able to help, threesquare is doing great work here locally in...

Read More