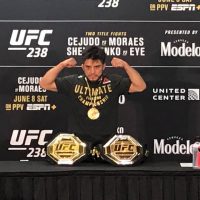 UFC 238 was a successful night of fights and in the main event, Henry Cejudo proved why he has the argument for greatest combat sports athlete of all time.
Olympic gold medalist? Check. UFC flyweight champion? Check. Avenged his loss against one of the top pound-for-pound fighter? Check. Now the UFC bantamweight champion? Check.
Once known as "The Messenger", and behind the love of his gold medal and "cringe" gimmicks, Cejudo said to me in an interview prior to his fight that he would like to be known as "Triple C" after he won.
"I'm already a champ champ. I'm already an Olympic champ and a UFC champ. I'm looking to be the triple champ. I told people after I win this fight, my nickname is officially going to change; not 'The Messenger', but it's going to change to 'Triple C.'
The successful change of nickname occurred as he defeated Marlon Moraes via third-round TKO in the main event at the United Center on June 8. Cejudo executed a flawless late-second and third round, after Moraes targeted his leg throughout the fight. Hearing, and seeing, what was wrapped under the tape on his ankles put the puzzle together regarding his game plan.
Leading up to the fight, Cejudo suffered an undisclosed ankle injury on Tuesday night. When asked about it during the media workouts on Wednesday, he played it off calmly and said it was a minor bump on his knee.
Henry Cejudo's coach Eric Albarracin just showed me a photo of the ankle injury Henry Cejudo went into tonight's fight with. Injured it this week on the mats during a workout. pic.twitter.com/tuA9IXIDY0

— Brett Okamoto (@bokamotoESPN) June 9, 2019
He revealed what really happened in the post-fight press conference. "The first night that we got there – the UFC mats – they were kind of some cheap tape, and I stepped on the crack which I thought it was sealed together; I sprained my ankle. The rumors were true but I kind of had to keep it between myself; get therapy along the week."
He said dealing with the adversity and fighting through it made his win extremely special.
After his victory, he called out Dominick Cruz, Urijah Faber, and Cody Garbrandt. He also asked for heavyweight paychecks and feels like he's the face of the company.
Cejudo proudly thanked and praised his head coach, who he regards is the coach of the year, Eric Albarracin. Albarracin is now coach of two double champions in different MMA promotions. He shared a heartfelt story on how Albarracin encouraged him to continue fighting when Cejudo wanted to retire after missing weight in his UFC debut back in August 2014.
"You're the best in the world Henry, you're the best in the world. This is your game. I believe in you. You can still fight." Cejudo recalled Albarracin's career-changing words. He said after going through that particularly darker time for a few weeks, he then called Sean Shelby for a bantamweight fight and the rest is – as they say – history.
Cejudo is a prime example of living the American Dream, coming back from adversity and achieving greatness throughout his career.
While many now regard him as the UFC double champion, or champ champ – joining an elite list who simultaneously hold two UFC titles including Daniel Cormier, Amanda Nunes, and Conor McGregor – he prefers to be called 'Triple C' and rightfully so…because don't forget, he has a gold medal.
by: Helen Yee | @HelenYeeSports
The legendary Randy Couture sat down with Cofield and Company at Silver Seven Hotel Casino on Thursday. In recent years, he's transitioned from world champion cage fighter to actor and charity maven. He's also working with the...

Read More
At Las Vegas Sports Network, MMA legend Randy Couture spoke to Helen Yee of Eyes On The Game about PFL Playoffs in Las Vegas, fighting twice in a day, the evolution of MMA, ranking system, his top...

Read More
At Las Vegas Sports Network, MMA legend Randy Couture spoke to Helen Yee of Eyes On The Game about PFL Playoffs in Las Vegas, fighting twice in a day, the evolution of MMA, ranking system, his top...

Read More