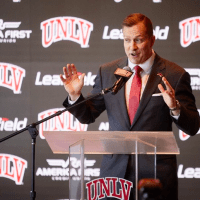 T.J. Otzelberger brings the promise of an offense featuring a spread floor aligned with shooters. But in his time at South Dakota State, Otzelberger produced one of the nation's most efficient post-up teams.
It appears to be a contradiction. The coach known for small ball and shooting would the throw ball to the low block with success. But in reality, the spacing and shooting helped provide the perfect opportunity for easy baskets in post-up scenarios.
In 2018-19 the Jackrabbits finished 2nd in the country in points per possession on post ups at 1.13; Marvin Menzies' final UNLV team ranked 348th (out of 353) at 0.61 points per possession on post ups.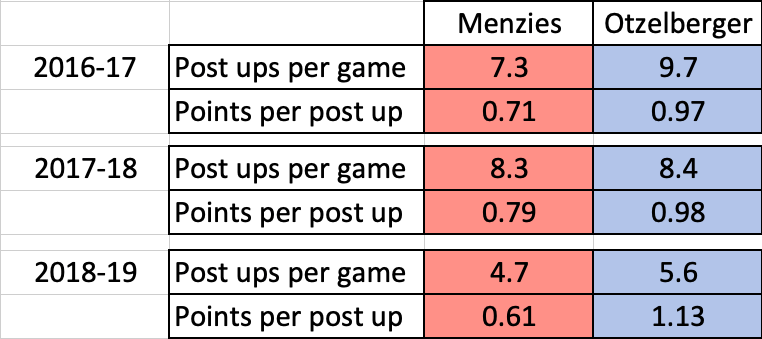 If used correctly – and sparingly – post-up basketball can still be effective in 2019. For Otzelberger it is all about finding and exploiting mismatches.
"It's about taking a player with talent and putting him in space against a defender that he has the advantage against. We'll continue to implement that strategy and philosophy," Otzelberger said.
The biggest mismatch at his disposal was Mike Daum feasting on the Summit League. Daum's worst points per game average in three years under Otzelberger was 23.9. The 6-foot-9 forward could step outside and drill threes while also getting into the paint to finish at the rim, making him one of the toughest players to guard.
He was named Summit League player of the year in every season Otzelberger coached him.
Here's how South Dakota State used Daum for post ups.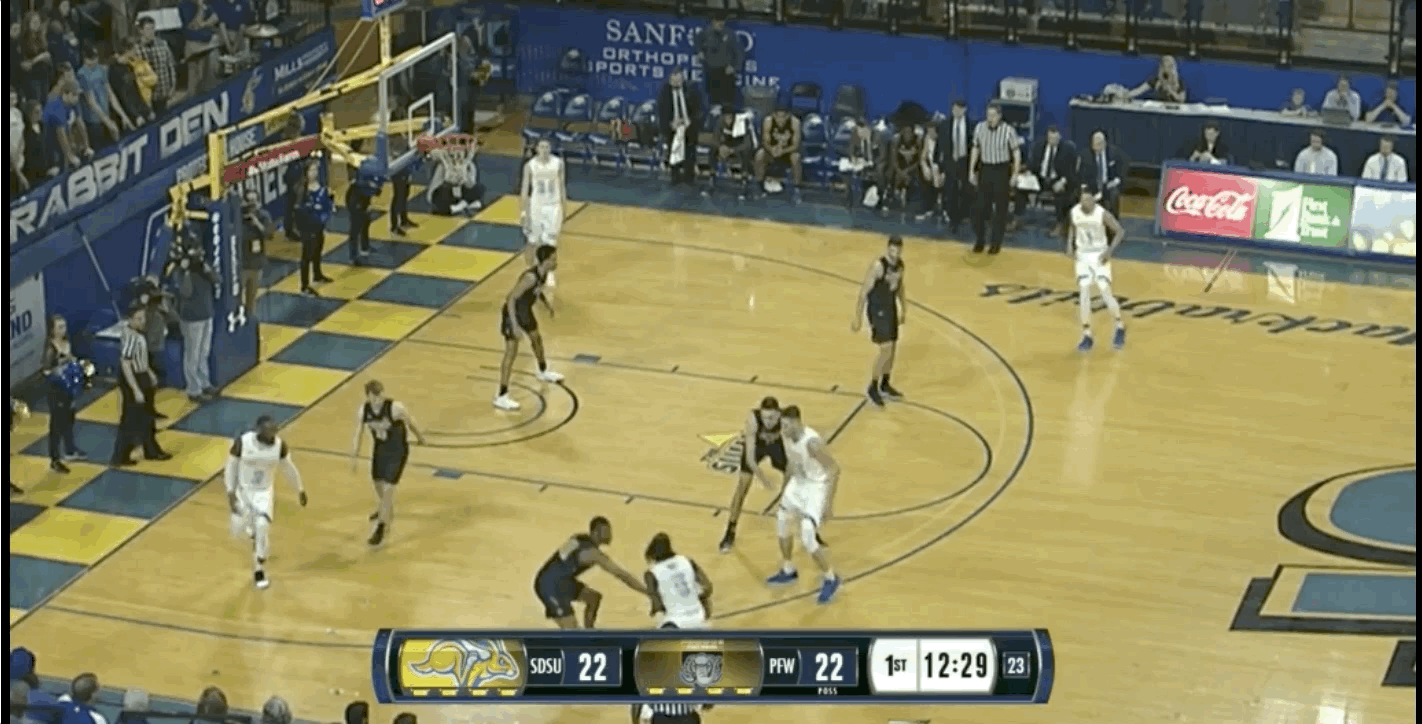 Purdue Fort Wayne's ball screen defense is aggressively trying to get the ball out of David Jenkins' (#5) hands. When Daum rolls to the basket, a guard has to help from the corner onto a Daum. There is the mismatch.
South Dakota State works the ball inside and Daum finishes through two defenders. That is where his individual skill elevated these post ups. He was good enough to finish even if he made the wrong read.
With no Mike Daum on the roster, the key for UNLV under Otzelberger is the amount of open shooters when Daum scores. There are three Jackrabbits unguarded on the three-point line as Daum shoots.
Even if there isn't a Mike Daum on the court, spreading the floor with an isolated post up can still get good shots.
Like this play against Nevada.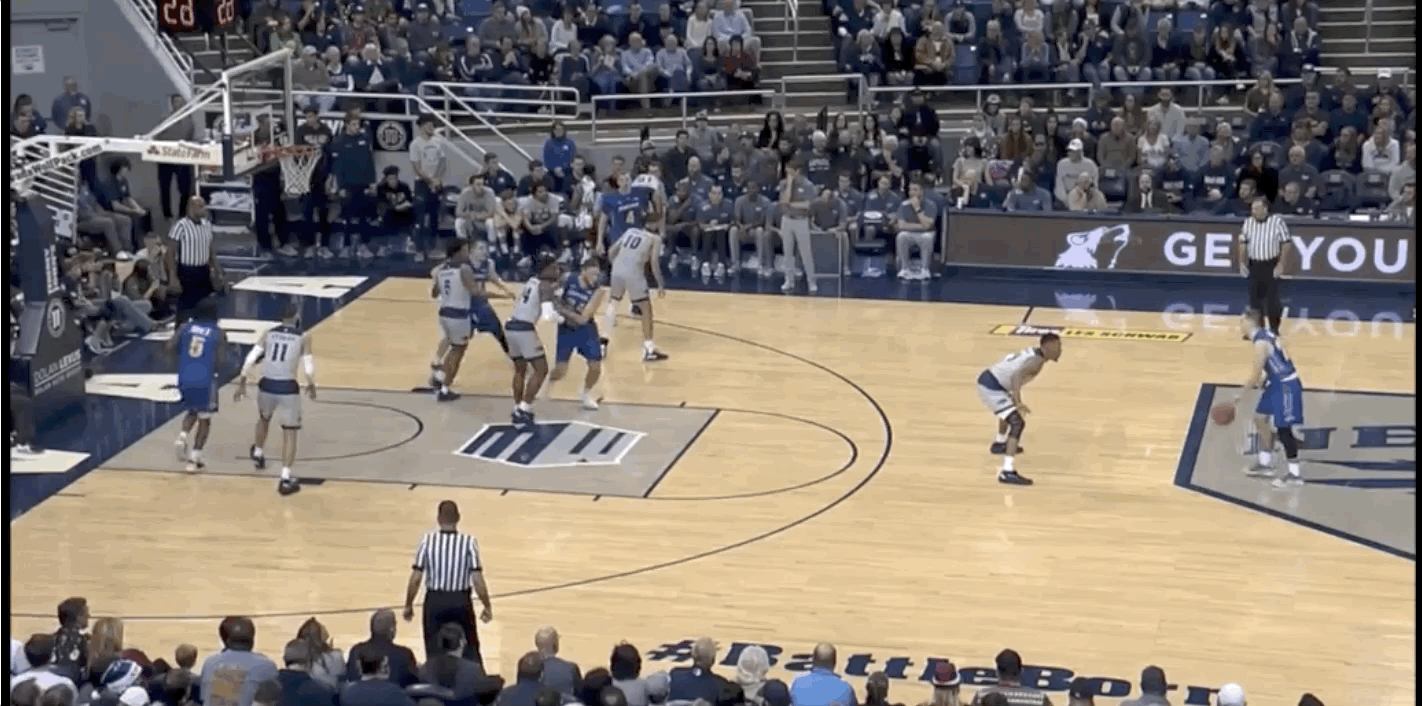 The defense was so preoccupied with Daum on the block, they abandoned the perimeter.
Compare the spacing of those plays to the spacing of UNLV's post ups this past season under Marvin Menzies.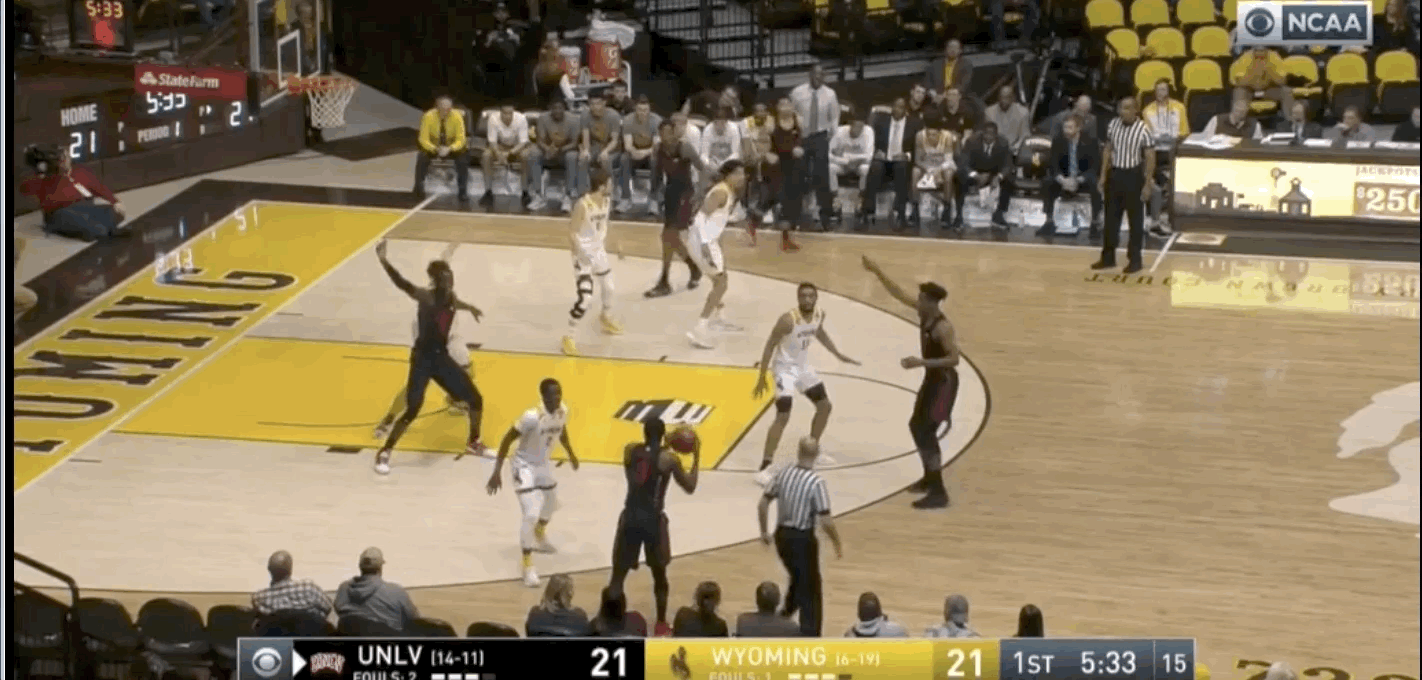 Mbacke Diong catches on the block and two Rebels make nonchalant cuts into the paint. Any post move Diong was going to make through the middle of the lane is shutdown because of the five bodies in the way.
Backside cuts during a post up can lead to easy layups when the help-side defense is caught watching the ball. But there has to be purpose with the cut and communication between teammates.
And it all comes back to spacing. If UNLV had prioritized shooting and spacing, that Diong post up could have required the defense to decide on helping in the paint or sticking to a shooter on the three-point line. Instead UNLV ran the help-side defense right to the ball.
Otzelberger and Menzies both love passing the ball around to get the defense moving before getting into any play.
"I think after multiple ball movements when guys have touched it, you spread the defense out, so now you've got that spacing you want and you can go in," Otzelberger said.
Here's a quick play South Dakota State used to get Daum post touches.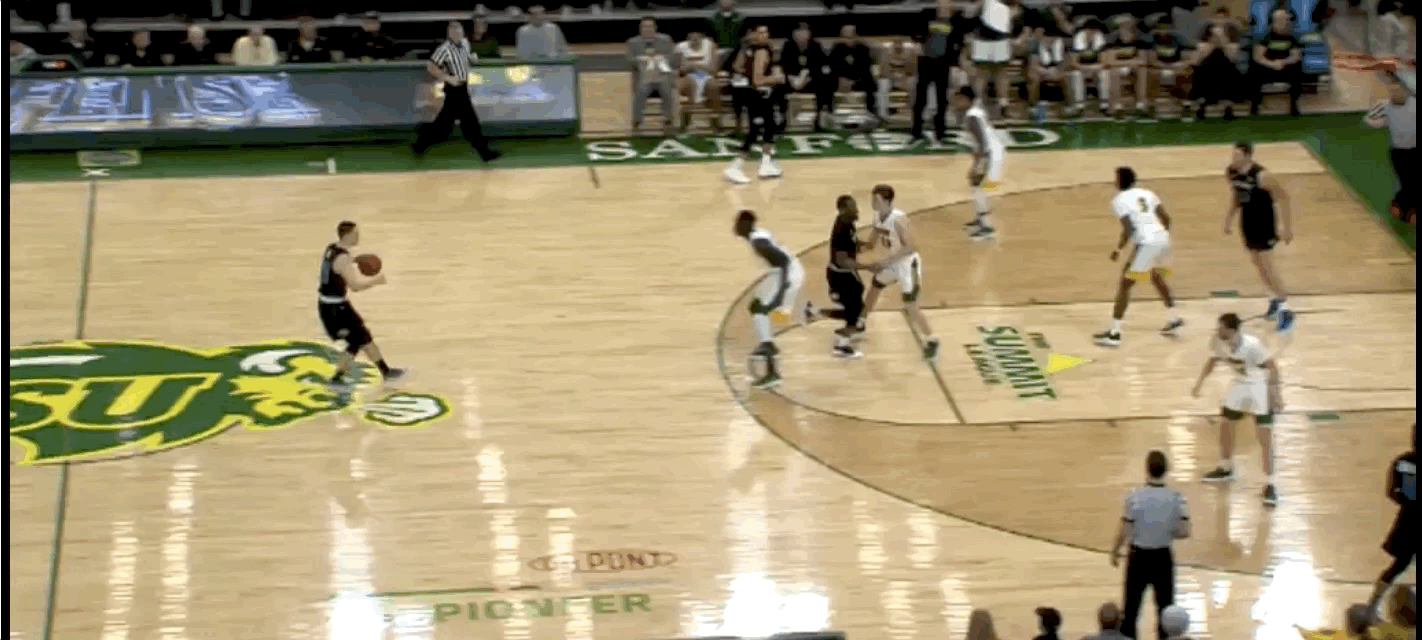 This features a block-to-block screen, a fake handoff, an actual handoff and post seal in the paint. All in about seven seconds.
Despite the quick action, South Dakota State never loses their spacing. When Daum catches in the paint, his four teammates are outside the three-point line, making the play even harder to guard.
The value on spacing makes every type of offense easier, even post ups.
The value of Mike Daum makes posting up a good option. Otzelberger will not have a Mike Daum on his UNLV roster.
Last season Mbacke Diong had 45 post ups, but only produced 40 points. He led UNLV in both post-up usage and post-up efficiency. When guards switch on to Diong, post ups will make sense. But there is no need to make Diong low-post touches a staple of the offense.
But for Otzelberger, posting up is not exclusive to big men.
"We posted our point guard a lot at South Dakota State because we had a bigger stronger point guard," Otzelberger said.
Last season, Daum dominated the Jackrabbits post touches, getting 94 percent of the team's post ups. But in 2017-18, four different players had at least 25 post ups and in 2016-17 three different players had over 40 post ups for South Dakota State.
That included 6-foot-5 Chris Howell.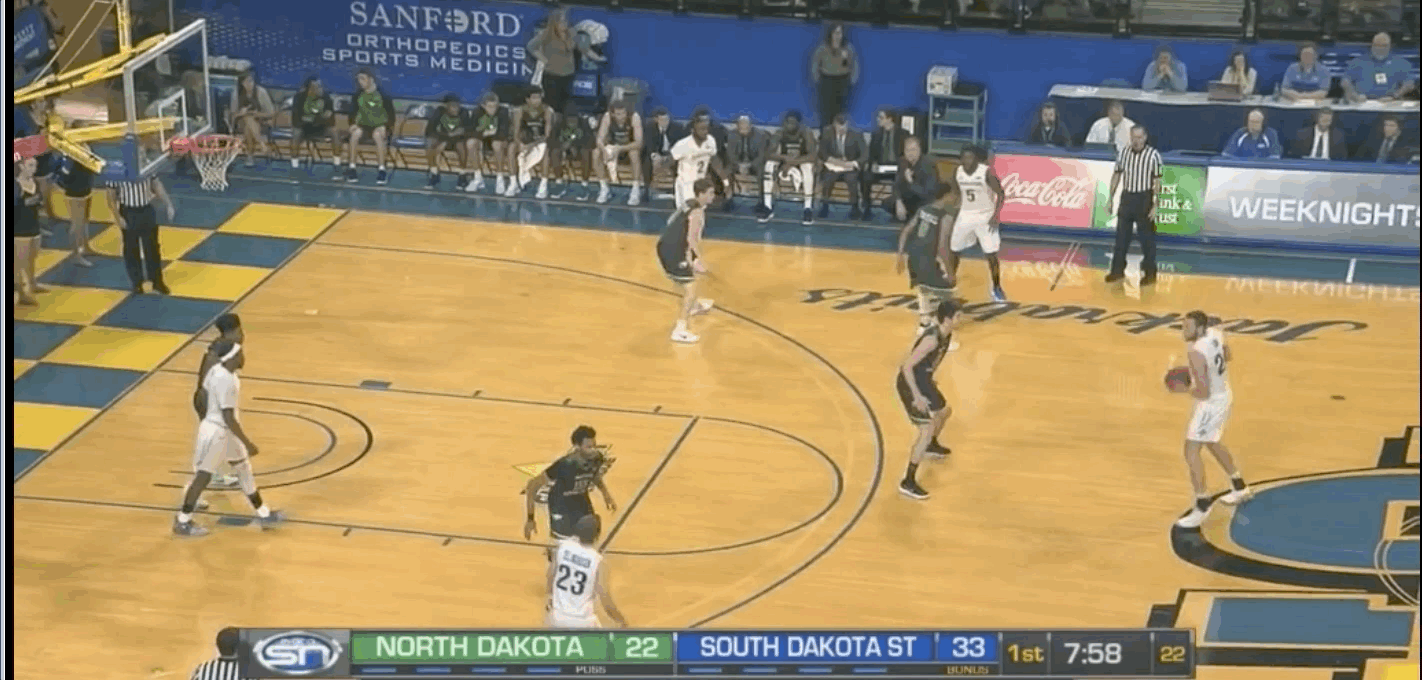 South Dakota State uses a back screen and fake hand off through the high post to get Howell isolated on a smaller defender. With good spacing, Howell goes around his man and scores an uncontested layup.
For UNLV in 2019-20, the projected starting backcourt, Amauri Hardy (6-foot-2) and Elijah Mitrou-Long (6-foot-1), may not have the size to have a mismatch worth exploiting in the post. But at 6-foot-5, Bryce Hamilton may have a chance to expand his game.
Hamilton did not have a post touch as a freshman, but if he gets a smaller guard on him, UNLV could space the floor and give him an isolated post up.
UNLV does not have an obvious choice for posting up this season. But Otzelberger likes to exploit mismatches, So if UNLV gets the chance, expect a spaced floor to accompany an isolated post up to put the pressure on the defense.
"It'll continue to be dictated by the offensive talents that our players possess," Otzelberger said. "And put them in the best chance to be successful."
Here are some tweets from Jesse Granger with renderings of the proposed new home of the Henderson Silver Knights. Here are some renderings of the future Henderson Event Center, home of the AHL's Silver Knights. Courtesy of...

Read More
FOR IMMEDIATE RELEASE MAY 26, 2020 NHL ANNOUNCES RETURN TO PLAY PLAN FOR 2019-20 24 Teams Will Restart Play, Compete for Stanley Cup 2 "Hub" Cities Will Play Host to Games Protocol for Players' Return to...

Read More
We will go deep into the vault to bring you classic ESPN Las Vegas Videos.  Some of these videos are from over a decade ago. Frank on the NHL Awards red carpet from 8 years...

Read More