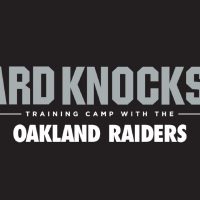 When the Raiders were on this year's short-list to make HBO's Hard Knocks series, it didn't seem likely considering the move to Las Vegas in 2020 would be the ideal time to film the storied franchise's new beginning in a new market.  Instead, HBO has decided to use the Raiders for the current 2019 season series as they run out the clock in Oakland.
"If you're a fan of football or great storytelling, HARD KNOCKS with the Oakland Raiders is going to be must-see television," says Peter Nelson, executive vice president, HBO Sports. "We are so grateful to this storied franchise for opening up its doors and allowing HBO and NFL Films to spend the summer with the Raiders in what promises to be a compelling and engaging training camp."
So here we go, camera crews will head to the Bay area in the next few weeks to begin filming, with the action heating up in August and will focus on the daily lives and routines of players and coaches. "HARD KNOCKS: TRAINING CAMP WITH THE OAKLAND RAIDERS"  will chronicle head coach Jon Gruden entering his second season leading the team, assistant coaches and players throughout training camp and the preseason.
"Since the AFL-NFL merger, the Raiders have been a part of some of the most iconic moments in League history," says NFL Films senior executive Ross Ketover.  "We at NFL Films have been thrilled and honored to showcase the mythology of the Raiders from the Holy Roller, Sea of Hands, Ghost to the Post all the way to today with Coach Gruden and this unbelievable cast of players and coaches. Needless to say, we're very much looking forward to this season of Hard Knocks."
A 30-person NFL Films crew will be in Raiders' training camp in Napa Valley, shooting more than 1,750 hours of footage over the course of the series. Camera and sound crews will have unencumbered access to players' and coaches' meeting rooms, training rooms, living quarters and practice fields.  One can only hope they will scour the dilapidated remains of the Raiders current home, the Oakland Coliseum; where the sewage often floods the dugouts and dead rats found in the soda fountain inside the press box — providing a detailed look at all the many reasons why the Raiders are leaving Oakland, which is truly Hard Knocks for a team that has won three Super Bowls.
LOTUS BROADCASTING ANNOUNCES UPDATED VEGAS GOLDEN KNIGHTS RADIO REBROADCAST SCHEDULE   VEGAS (April 27, 2020) – Lotus Broadcasting announced today, April 27, that the radio network will continue rebroadcasting Vegas Golden Knights games on the team's flagship...

Read More
We will go deep into the vault to bring you classic ESPN Las Vegas Videos.  Some of these videos are from over a decade ago. Steve Cofield talks with Rashad Evans about the really important...

Read More
Here are some links to resources that may help you stay informed and knowledgeable. https://nvhealthresponse.nv.gov/ https://www.cdc.gov/coronavirus/2019-ncov/index.html www.southernnevadahealthdistrict.org/coronavirus. https://sites.google.com/nv.ccsd.net/covid-19updates/home#h.au7wl6jpawt9 Also if you are able to help, threesquare is doing great work here locally in...

Read More