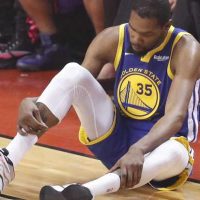 By: TC Martin
Injuries and fatigue may eventually end the Golden State Warriors three year championship run but it wasn't happening Monday night as the champs showed their heart, mettle and talent to defeat the Toronto Rap[tors 106-105 in Game 5 in Toronto.
Kevin Durant hadn't played in 30 days and has been trying to rehab his strained right calf. Durant got the start and looked like vintage KD in scoring 11 points in first 12 minutes of the game.  Then fearing the worst, it happened.  Durant re-injured himself but it wasn't the calf.  He tore his Achilles tendon on a cross over dribble with 9:49 remaining in the second quarter.  He was helped off the court and back to the locker room and left the arena in a walking boot.
​In one of the best and most gritty performances this team has played during it's five year run, this was a bittersweet victory. The Warriors staved off elimination for the sixth time in seven elimination games while Steve Kerr has been coach, but lost arguably their best player for not only the rest of this series but for most of next season.
​The splash brothers were not going to let this game get away after leading by double digits for most of the contest.  Stephen Curry scored 31 points while Klay Thompson added 26 to force a Game 6 Thursday night in Oakland.
​The experience of Golden State shined down the stretch, overcoming a six point deficit with 2:32 remaining in the game.  Three straight  3-pointers  by Curry and Thompson rallied them to see another game.
Despite the Warriors injuries and fatigue, they have extra motivation now with Durant sidelined indefinitely.  They feel its them against the world and are ultimately confident that they can overcome all the obstacles and continue their reign as champions.
​
Related News
YouTube star Logan Paul will be making his professional boxing debut against KSI on Saturday, November 9 at Staples Center. During the press conference, Paul spoke to Helen Yee of Eyes On The Game about his upcoming...

Read More
T.J. Otzelberger has only coached one game for UNLV, but he is already thrilled with the way his team has picked up his offense. A stark contrast from his predecessor Marvin Menzies' post heavy offense, Otzelberger wants...

Read More
Formerly Held In Summerlin, the USTA Pro Circuit $60,000 Tournament Kicked Off On Monday for the 13th Consecutive Year....

Read More