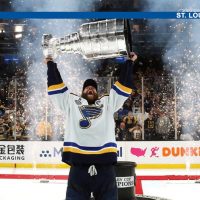 The St. Louis Blues have gone from worst to first, capturing the first Stanley Cup Championship in franchise history.
I said the story writes better if the Blues were to win this series and stand firmly behind that, starting with rookie goaltender Jordan Binnington, who played his best game of the playoffs, Wednesday night.
Binnington set the NHL record for playoff wins by a rookie goalie (16) and outdueled Boston's, Tuuka Rask. Binnington was St. Louis' best player early on and allowed his team to settle into their game in the second period.
Conn Smythe winner Ryan O'Reilly battled through a lackluster start to the Stanley Cup Final, to become the difference maker the Blues hoped he would be when they traded for him in the offseason.
Then, there is David Perron. The Last Avenger for Vegas. Perron, while not a significant difference maker in the Final, on the whole, showed up late in the third period, with a beautiful assist on Zach Sanford's late tap-in goal.
For a team that was dead last in the NHL on January 3rd, just making the playoffs would have been considered a salvaged season. However, just making the playoffs wasn't good enough for this Blues team.
The Blues story is one of belief, perseverance, and amounting to more than the sum of your parts. And the Blues have authored the perfect ending for their organizations first Stanley Cup Championship.
There is just one thing left to do now… Play Gloria.
Photo courtesy of NHL.com
Follow Ryan The Hockey Guy
Here's your chance to win a Vegas Golden Knights player signed jersey. During the month of June, Fox Sports Las Vegas 98.9fm and 1340am will be airing classic games form the VGK historic first season. You'll hear...

Read More
It's been over two months since the Golden Knights last took the ice. What has forward Jonathan Marchessault been up to since then and what is his current message to all of the VGK fans out there?...

Read More

Jonathan Marchessault's Message to VGK Fans

JT The Brick
Golden Knights Defensemen Nick Holden joined Ed Graney and Mike Pritchard to talk security, staying home with four kids, hockey and more. Video Courtesy of NHL.com...

Read More
Vegas Golden Knights fans showed up, backing their boys in the team's final face off of a four-game run at home. It was anything but a warm welcome as the New Jersey Devils hit the ice for...

Read More
Frank Harnish and Ryan Wallis had the chance to chat with new Vegas coach Pete DeBoer on Friday afternoon, hear what he had to say about his system, the players and the 5 minute major pic courtesy...

Read More
Rink Rats – 03 Jan 2019 Ryan and Jesse are back to answer you questions. Topics include what's wrong with Alex Tuch? Cody Glass maturing before our eyes. Chandler Stephenson, still good. Defensive help at the deadline,...

Read More
Rink Rats – 9 Dec 2019 The guys are finally back in the studio, breaking down the Golden Knights last 6 (SIX?!) games. Jesse has a hot tale about New York Style Pizza. The Golden Knights need...

Read More

Is there Honey in Buffalo?

Rink Rats
Rink Rats – 12 Nov 2019 Ryan and Jesse are back in the studio to talk about why the Golden Knights can't close. Ryan asks Jesse about the Hockey Hall of Fame, and petitions the Sharks to...

Read More
In this episode, Jesse and Ryan breakdown the Mark Stone vs. Roman Josi superfight from last night's Golden Knights game. The guys discuss Marc-Andre Fleury's workload, provide an update for all injured Golden Knights players, and discuss...

Read More
Tuesday was a trying day for the Las Vegas Review-Journal sports staff Jesse Granger, a writer from The Athletic, claimed that an unnamed LVRJ writer copied his Tuesday story. (@JesseGranger_) tweeted at 9:17 AM on Tue, Sep...

Read More
Ryan and Jesse are back. Jesse is fresh off a Caribbean vacation, and Ryan is impressed with one listener's ability to pick out landmarks via nondescript pictures on twitter. The guys then shift to Jimmy Schuldt, and...

Read More

Episode 54: Vacation is over

Rink Rats
It's hard to find an organization that had a better summer than the New Jersey Devils. Through a couple trades and the luxury of another Taylor Hall draft lottery pick, the Devils have quickly turned themselves into...

Read More
Nikita Gusev is gone from the Vegas Golden Knights. The trade to the Devils still has lots of folks confused around Las Vegas. On Cofield & Co., Brian Blessing from the Vegas Hockey Hotline shredded VGK for...

Read More
VGK Insiders – 31 July 2019 Frank and Ryan spoke with Nick Gismondi about the VGK off season moves, deals and expectations, along Justin Roth about the Nevada Police & Fire Department 3 on 3 hockey tournament...

Read More

Off-Season Moves, Nick Gismondi and Badges do...

Vegas Golden Knights Insider Hockey Show
The Rink Rats – Episode 52 – 30 July 2019 Ryan and the Athletic talk all things Gusev!...

Read More

Going Going Gusev is Gone!

Rink Rats
VGK Insiders – 29 July 2019 Nikita Gusev has been traded to the New Jersey Devils for draft picks ...

Read More
VGK Insiders – 17 July 2019 Ken Boehkle is in with Frank and made about trips to small mountain towns....

Read More

Vegas Golden Knights Insider Hockey Show
Ryan and Jesse are back to discuss the opening of free agency in the NHL. The guys discuss the Erik Haula and Colin Miller trades, as well as take a look at what the hang up is...

Read More

Episode 51: How Gusev saves the offseason

Rink Rats
On Friday Chris Chapman had an opportunity to talk to camp veteran Lucas Elvenes about the SHL and his goals for training camp pic courtesy of dobberprospects.com...

Read More
As VGK development camp winded down Chris Chapman caught with Golden Knights draft pick Mason Primeau and talked about being drafted and his father's influence on him pic courtesy of country600.com...

Read More
Chris Chapman was out at Golden Knights Development Camp and had a chance to talk with young goalie Isaiah Saville pic courtesy of knightsonice.com...

Read More
Chris Chapman hung out at Golden Knights Development Camp and had a chance to chat with young German Taro Jentzsch pic courtesy of hockeyphoenix.ca...

Read More
On Friday the VGK Insiders Frank Harnish and Ryan Wallis had a chance to chat with VGK coach Gerard Gallent (this was before news of Colin Miller being traded broke) pic courtesy of SI.com...

Read More
The Golden Knights took another step towards defining their salary cap crunch by trading defenseman Colin Miller to the Buffalo Sabres in exchange for a second-round pick (STL) in the 2021 NHL Draft, and a fifth-round pick...

Read More
Chris Chapman chatted with 20 year D man Nic Hague about his season with the Chicago Wolves and his mentality about development camp pic courtesy of Knightsonice.com...

Read More
On Thursday Chris Chapman talked with young goalie Dylan Ferguson to talk about his 3rd dev pic courtesy of nhl.com...

Read More
Frank and Ryan spoke with incoming Golden Knights GM Kelly McCrimmon on Thursday at Development Camp...

Read More
The Golden Knights have traded forward Erik Haula to the Carolina Hurricanes, in exchange for prospect Nicolas Roy and a conditional fifth-round pick, according to The Athletic's Jesse Granger and Pierre LeBrun. Haula missed 67 games last season...

Read More
Frank and Ryan sat down with the 17th overall pick in the 2019 NHL Draft; Peyton Krebs pic courtesy of WHL.com...

Read More
Frank and Ryan were joined by Golden Knights fanb favorite Ryan Reave pic courtesy of Knightsonice.com...

Read More
"You all live here, so you know it's awesome." William Karlsson loves Las Vegas. He's fallen in love with the city that made him a superstar. Don't believe me? That's ok, take a look at his new...

Read More
Vegas Golden Knight's 1st rounder Peyton Krebs talked to Chris Chapman. ...

Read More
VGK Insiders – 25 June 2019 William Karlsson sits down with Frank Harnish and Ryan Wallis to discuss his new contract extension....

Read More
The Golden Knights and RFA William Karlsson have come to terms on an 8-year, $47.2 million contract. Karlsson will be paid $5.9 million AAV until the 2026-27 season. Jesse broke the details of the deal on Sunday...

Read More

Episode 50: Jesse was right

Rink Rats
The Vegas Golden Knights have officially signed William Karlsson to an extension. The 26-year-old Swedish forward is locked into a team friendly eight-year deal with an Average Annual Value of $5.9 Million. Jesse Granger, The Athletic, reported...

Read More
The Vegas Golden Knights selected Peyton Krebs 17th overall in the 2019 NHL Entry Draft. Krebs is a dynamic, two-way player, that understands the game at a high level in all three zones. A consensus Top-10 pick,...

Read More
VGK Insiders – 21 June 2019 Frank and Ryan are joined by fellow insider Gary Lawless to look ahead to tonights NHL Draft. Chris Chapman has a Sushi dinner planned for after the draft Should Mitch Marner...

Read More

Gary Lawless joins Frank and Ryan live from N...

Vegas Golden Knights Insider Hockey Show
Erik Karlsson is going to be in San Jose for the next eight years, so Ryan and Jesse lead off the conversation dissecting that deal, and why Joe Pavelski should NOT take a hometown discount. The focus...

Read More

Episode 49: A Tale of Two Karlssons

Rink Rats
Come Wednesday the NHL will descend on Las Vegas, with the task of highlighting the sports best players and stories from the 2018-19 season. But, the obvious question to be asked on the eve of the awards,...

Read More
The odds are out for next season in the NHL. Who ya got? Our hometown Golden Knights are the second choice at 7-to-1. Tampa Bay is the favorite. Adam Candee and Steve Cofield roll through the SuperBookUSA...

Read More
The Cup is headed to St. Louis and Nevada sports books are paying the price. The St. Louis Blues delivered on odds as high as 300-to-1 to shock the hockey world. But that doesn't mean the betting...

Read More
By Frank Harnish VGK Insider Ryan O'Reilly scored the first goal of the game making him the first player since Wayne Gretzky in 1985 to score goals in four consecutive Stanley Cup Playoff games. Alex Pietrangelo scored...

Read More
The St. Louis Blues have gone from worst to first, capturing the first Stanley Cup Championship in franchise history. I said the story writes better if the Blues were to win this series and stand firmly behind...

Read More
Jordan Binnington showed nerves of steal throughout the Stanley Cup Final, but he's no match for Scott Berry. Berry made a $400 bet on the St. Blues to win the Cup at 250-to-1 odds. The Blues ripped...

Read More
Vegas Golden Knights vs Raiders Battle For Vegas charity softball game takes place on Saturday, June 15 at 7:00pm at the Las Vegas Ballpark. The charity will benefit the Tyler Robinson Foundation. Golden Knights' player and host...

Read More
Do we have another Clark County vs. City of Las Vegas battle on tap? Mayor Carolyn Goodman is working on a plan to build a soccer only stadium downtown on the Cashman site in the hopes than...

Read More
St Louis ties the series at two games each heading back to Boston Monday night the St Louis Blues were fighting to get their first Home Ice Win in the Stanley Cup Finals. While it wasn't technically...

Read More
Technically Correct – 31 May 2019 The Rink Rats talk game 2 of the Stanley Cup Playoff Final and Chicago "Woves" prospects. Plus the Athletic makes a good hoodie, who can't skate and who should be punched...

Read More

Cooking Cody Glass with The Rink Rats

Rink Rats
Frank and Ryan chatted with the first ever amateur draft pick of the Golden Knights Cody Glass who is playing in the Calder Cup Finals with the Chicago Wolves pic courtesy of knightsonice.com...

Read More
Here are some tweets from Jesse Granger with renderings of the proposed new home of the Henderson Silver Knights. Here are some renderings of the future Henderson Event Center, home of the AHL's Silver Knights. Courtesy of...

Read More
FOR IMMEDIATE RELEASE MAY 26, 2020 NHL ANNOUNCES RETURN TO PLAY PLAN FOR 2019-20 24 Teams Will Restart Play, Compete for Stanley Cup 2 "Hub" Cities Will Play Host to Games Protocol for Players' Return to...

Read More
Here are some links to resources that may help you stay informed and knowledgeable. https://nvhealthresponse.nv.gov/ https://www.cdc.gov/coronavirus/2019-ncov/index.html www.southernnevadahealthdistrict.org/coronavirus. https://sites.google.com/nv.ccsd.net/covid-19updates/home#h.au7wl6jpawt9 Also if you are able to help, threesquare is doing great work here locally in...

Read More