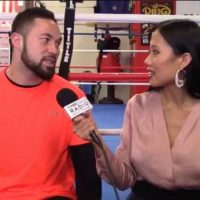 Former WBO heavyweight champion Joseph Parker will be fighting Eric Molina on June 29.
Parker, who is trained by Kevin Barry in Las Vegas, is coming off a third-round KO victory over Alexander Hernandez.
He also holds the only win over current heavyweight champion Andy Ruiz.
Parker spoke to Helen Yee about his upcoming fight, what he thought of Andy Ruiz vs Anthony Joshua, his new Matchroom Boxing contract, Tyson Fury, and more.
Video below.
All Pro Fullback Lorenzo Neal joined the Pressbox to explain how he convinced Chuck Liddell to start fighting, that Ray Lewis was afraid of him and how he basically blocked for every thousand yard rusher from...

Read More
After Deontay Wider knocked out Luis Ortiz in the seventh round of their rematch, Stitch Duran spoke to Helen Yee about his thoughts regarding the fight, Floyd Mayweather's return, Nate Diaz, and more. Video below....

Read More
After the weigh-ins for Deontay Wilder vs Luis Ortiz rematch, Floyd Mayweather Sr spoke to Helen Yee about Floyd's post about returning in 2020, Dana White, MMA, Manny Pacquiao rematch, and more. Video below....

Read More