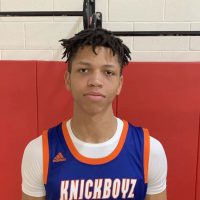 T.J. Otzelberger added his first piece to the 2020 recruiting class, as Nick Blake pledged his allegiance to UNLV today.
Blake picked the Rebels over Kansas State. UNLV will host Kansas State this season, then return the favor in 2020 with a trip to Manhattan, Kansas.
The 6-foot-6 wing is rated as a three-star recruit and ranked as the 162nd best player in the 2020 class according to 247 Sports. This past season he played on the AAU team Las Vegas Knicks while he attended Middlebrooks Academy in California.
Prior to heading to California, he had played at Durango High School in Las Vegas under DeShawn Henry, who is reportedly joining Otzelberger's staff as Director of Basketball Operations.
UNLV will have two seniors graduating after next year in Elijah Mitrou-Long and Nick Blair, opening up two spots for Otzelberger to fill. The Rebels still have an open scholarship for this season, as well.
The Rebels will also have David Jenkins and Moses Wood eligible for the 2020-21 season after they sit out the upcoming year.
As a freshman, Blake will be battling with Jenkins, Amauri Hardy, Bryce Hamilton and Jonah Antonio for playing time on the perimeter.
Image courtesy of LV Knicks.
Here are some tweets from Jesse Granger with renderings of the proposed new home of the Henderson Silver Knights. Here are some renderings of the future Henderson Event Center, home of the AHL's Silver Knights. Courtesy of...

Read More
FOR IMMEDIATE RELEASE MAY 26, 2020 NHL ANNOUNCES RETURN TO PLAY PLAN FOR 2019-20 24 Teams Will Restart Play, Compete for Stanley Cup 2 "Hub" Cities Will Play Host to Games Protocol for Players' Return to...

Read More
Here are some links to resources that may help you stay informed and knowledgeable. https://nvhealthresponse.nv.gov/ https://www.cdc.gov/coronavirus/2019-ncov/index.html www.southernnevadahealthdistrict.org/coronavirus. https://sites.google.com/nv.ccsd.net/covid-19updates/home#h.au7wl6jpawt9 Also if you are able to help, threesquare is doing great work here locally in...

Read More