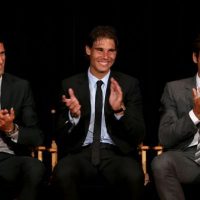 The 2019 Road to Wimbledon for Men

They say that Father Time is undefeated and that eventually age is the downfall of every athlete. Apparently Roger Federer isn't ready to give into that theory. Federer just won his 102nd tournament overall and 10th on the grass at Halle Germany. Halle is one of the grass court tune ups for Wimbledon where Federer will be going for his ninth title and 21st Grand Slam Championship. At age 37 he's old enough to play on the ATP Champions Tour (aka: seniors tour) but that won't be happening anytime soon. Federer is ranked third in the world and is the favorite to win again this year at Wimbledon.
Rafael Nadal at 33 and Novak Djokovic at 32 are once again expected to be the main challengers for Federer on the Grass Courts at Wimbledon. Nadal just won his 12th French Open title beating Federer in the Semi-Finals and then Dominic Thiem in the Finals. Nadal is ranked second in the world and has won 18 Grand Slam Championships. Novak Djokovic is currently ranked first in the world and he has won 15 Grand Slams of his own. The Big Three as they are known have dominated Men's Tennis for over a decade and are still the best of the best. All of them have had potential career ending injuries yet all three have fought back to regain their championship form. Federer is the oldest in years but Nadal and Djokovic play such a physically demanding style of tennis that they might be more physically broken. Federer has an ease and a fluid motion to his game that makes it less taxing on the body. All three are great on any surface. Nadal is the known as The King of Clay but no one gets higher on grass than Federer and he hopes to smoke the competition once again this year.
The tennis world is still waiting for the next generation of players to break through and win some Grand Slam Events and Thiem seems to be the one most likely to finally take down the Big Three. At 25 most people thought he would have already won a Grand Slam Event by now but the Big Three are stubborn and talented. I still believe Alexander Zverev has as much if not more talent than any player on tour but he seems to tighten up in the Majors and if you play not to lose against the best in the world you ultimately find yourself out of the tournament. The youngest player with the biggest potential seems to be Felix Auger Aliassime. The 18 year old from Canada seems to be getting better every week and if he stays healthy and focused it's not a question of if but when he will win his first Grand Slam Tournament. I don't think it will be this year but remember that name because once he wins one he might go on to win a lot of them. Will he ever approach the Big Three? Its way to early to suggest that but he has all the tools, skill and confidence to have an outstanding career.
Wimbledon takes place Monday July 1 through Sunday July 14 this year and is the third Grand Slam Event of the year. Djokovic won the Australian Open and Nadal won the French earlier this year. The U S Open is the final Grand Slam Tournament of 2019 and that will take place August 26 through September 8, 2019.
Frank Harnish
FOR IMMEDIATE RELEASE MAY 26, 2020 NHL ANNOUNCES RETURN TO PLAY PLAN FOR 2019-20 24 Teams Will Restart Play, Compete for Stanley Cup 2 "Hub" Cities Will Play Host to Games Protocol for Players' Return to...

Read More
We will go deep into the vault to bring you classic ESPN Las Vegas Videos.  Some of these videos are from over a decade ago. Ballpark Frank (you will hear his voice) and Darian Cozier...

Read More
Here are some links to resources that may help you stay informed and knowledgeable. https://nvhealthresponse.nv.gov/ https://www.cdc.gov/coronavirus/2019-ncov/index.html www.southernnevadahealthdistrict.org/coronavirus. https://sites.google.com/nv.ccsd.net/covid-19updates/home#h.au7wl6jpawt9 Also if you are able to help, threesquare is doing great work here locally in...

Read More