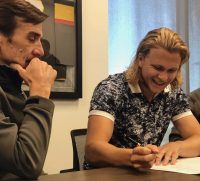 The Vegas Golden Knights have officially signed William Karlsson to an extension.
The 26-year-old Swedish forward is locked into a team friendly eight-year deal with an Average Annual Value of $5.9 Million.
Jesse Granger, The Athletic, reported that deal included a 10 team no move clause.
William Karlsson's 8-year, $47.2 million contract with the Golden Knights is official.

It includes a 10-team no trade list that kicks in after the first season. #VegasBorn

— Jesse Granger (@JesseGranger_) June 25, 2019
This move puts the current cap estimate for the Golden Knights at around 89 million. Seven higher than the current expected salary cap.
Karlsson had 24 goals and 32 assists in 82 games last season.
Vegas had until July 1 to work out the extension before Karlsson would become unrestricted.
Karlsson had signed an extension in August 2018 worth $5.25 million to avoid arbitration.
The locking in of Karlsson locks in the Golden Knight's top-lines until 2021 when Paul Stastny will be an unrestricted free agent.

Rink Rats – 12 Nov 2019 Ryan and Jesse are back in the studio to talk about why the Golden Knights can't close. Ryan asks Jesse about the Hockey Hall of Fame, and petitions the Sharks to...

Read More
In this episode, Jesse and Ryan breakdown the Mark Stone vs. Roman Josi superfight from last night's Golden Knights game. The guys discuss Marc-Andre Fleury's workload, provide an update for all injured Golden Knights players, and discuss...

Read More
Tuesday was a trying day for the Las Vegas Review-Journal sports staff Jesse Granger, a writer from The Athletic, claimed that an unnamed LVRJ writer copied his Tuesday story. (@JesseGranger_) tweeted at 9:17 AM on Tue, Sep...

Read More
Ryan and Jesse are back. Jesse is fresh off a Caribbean vacation, and Ryan is impressed with one listener's ability to pick out landmarks via nondescript pictures on twitter. The guys then shift to Jimmy Schuldt, and...

Read More

Episode 54: Vacation is over

Rink Rats
Rink Rats – 12 Nov 2019 Ryan and Jesse are back in the studio to talk about why the Golden Knights can't close. Ryan asks Jesse about the Hockey Hall of Fame, and petitions the Sharks to...

Read More
At Tomacelli Academy, Jason Mayhem Miller spoke to Helen Yee about the BMF belt, Nate Diaz, Jorge Masvidal, managing fighters, Israel Adesanya's walkout, wanting to train Rampage Jackson, and more. Video below....

Read More
YouTube stars KSI defeated Logan Paul on Saturday, November 9 at Staples Center. Crowd goes crazy for KSI winning @KSIOlajidebt #KSIvsLoganPaul2 pic.twitter.com/jx1KLACSZs — Helen Yee (@HelenYeeSports) November 10, 2019 At Tomacelli Academy, Jason Mayhem Miller spoke to...

Read More