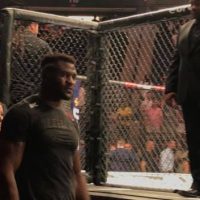 With a great night of fights, Saturday evening wrapped up in Minneapolis with 8 out of the 12 fights ending in finishes. Four fighters were awarded Performance of the Night bonuses: Francis Ngannou, Joe Benavidez, Alonzo Menifield, and Eryk Anders.
In the main event, #2-ranked UFC heavyweight Francis Ngannou added another impressive knockout victory to his resume while he defeated the former UFC heavyweight champion, Junior dos Santos.
One minute eleven seconds was all it took for Ngannou to finish his opponent.
The devastating finish not only earned him the 'Performance of the Night' bonus, but it echoed another title shot.
Ngannou revealed what he told UFC President Dana White moments after his win. "I was just telling him that I need some credit. I need the title shot because that's the only thing that will make sense right now for me."
"He said we're going to talk about it. I assume that means 'yes'."
Prior to fighting the former champion in Minneapolis, Ngannou knocked out another former UFC heavyweight champion, Cain Velasquez, back in February. That knock out only took 26 seconds.
Before that, he finished Curtis Blaydes in a rematch in November 2018 which lasted 45 seconds.
Ngannou fought for the title for the first time against former UFC heavyweight champion, Stipe Miocic, in January 2018 at UFC 220. Miocic controlled the entire fight and defended his title by unanimous decision over Ngannou.
Though it's still unclear whether he will be getting the next title shot, 'The Predator' will be waiting to see who wins between Stipe Miocic and current UFC heavyweight champion, Daniel Cormier. They headline UFC 241 in Anaheim on August 17.
However, Ngannou doesn't have any concerns if there's anything that would delay his title shot. "I just want them to give me the title contract then we have time to prepare and put it all together. If DC wins and decides to retire, the division will not still [be] without a champion. They'll still have to figure out something and I'll be ahead of the line so I'm not concerned about that."
Two heavyweights collided in the main event but only one walked towards another well-deserved title shot opportunity.
Three stoppages in a row that only took 142 seconds total. Who deserves it more than 'The Predator'?
by: Helen Yee | @HelenYeeSports
WBC welterweight champion Shawn Porter will be fighting IBF welterweight champion Errol Spence on Saturday, September 28. At Barry's Boxing Gym, he spoke to Helen Yee of Eyes On The Game about his upcoming fight, his karaoke...

Read More
WBC welterweight champion Shawn Porter will be fighting IBF welterweight champion Errol Spence on Saturday, September 28. At Barry's Boxing Gym, he spoke to Helen Yee of Eyes On The Game about his upcoming fight, his karaoke...

Read More
WBC welterweight champion Shawn Porter will be fighting IBF welterweight champion Errol Spence on Saturday, September 28. At Barry's Boxing Gym, he spoke to Helen Yee of Eyes On The Game about his upcoming fight, his karaoke...

Read More