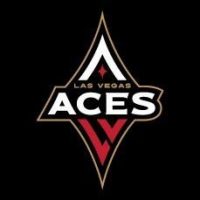 The Aces have now won two in a row, and four of their last five games. This afternoon they hosted The Chicago Sky for a rare day game at the Mandalay Bay Events Center. Las Vegas got off to a great start, but never fully had control throughout the game. But they did play well and the teamwork was there as they pulled away in the last two minutes to finish with a 90-82 victory.
Highlights from today's Summer Fun Day win at The House.#DoubleDown ♦️♠️ pic.twitter.com/4ypf7VHias

— Las Vegas Aces (@LVAces) July 2, 2019
The Aces mostly shot well but never lead by more than a few points until the end. Five players scored double digits, including Dearica Hamby off the bench with 14. No one contributes more consistently off the bench than Hamby! The backcourt finally provided some much-needed support in the win. Both Kelsey Plum and Jackie Young are getting back into the swing of things, which will be very useful assuming The Aces make the playoffs. It's still early but with wins in four of their last five games, the emergence of the backcourt, and the team starting to truly gel together, The Aces are looking like they could make a big run en route to the playoffs, and maybe more!
Matinee hoop! @LVAces leading at halftime 55-54 @kaymac_2123 with a 4 point play opportunity @ESPNLasVegas @LVSportsNetwork #WNBA @MandalayBay pic.twitter.com/OZjhkucBZx

— TC Martin (@TCMartin21) July 2, 2019
Las Vegas Aces will take on The Washington Mystics this Friday. Tip-off is 7:30 pm. You can listen starting with the 7 pm pregame show on your Home for Aces Basketball, ESPN Las Vegas, or streaming live at LVSportsNetwork.com.
UFC heavyweight Derrick Lewis will be fighting Blagoy Ivanov at Madison Square Garden on Saturday, November 2 at UFC 244. During fight week, Lewis spoke to Helen Yee about his upcoming fight, Daniel Cormier vs Stipe Miocic,...

Read More
UFC middleweight Brad Tavares will be fighting Edmen Shahbazyan on November 2 at UFC 244. Tavares last fought current UFC middleweight champion Israel Adesanya on July 6, 2018. He lost by unanimous decision. Prior to that fight,...

Read More
Coming off an upset win over Vanderbilt, UNLV looked to go to Fresno State and come away with another surprise victory. But Kenyon Oblad threw three interceptions and the Rebels lost two fumbles, leading to a blowout...

Read More