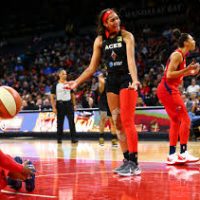 By: TC Martin
The buildup was warranted.  The Washington Mystics are considered the best team in the WNBA.  They arrived in Las Vegas with a five game winning streak including a 95-72 victory in the same building two weeks ago. For the first half, much was the same as the Mystics showed their superior offensive skills in building a 51-36 halftime lead.  Then it happened.
​Unbeknownst to those at court-side including myself and Bill Laimbeer, play was halted and the crowd screamed.  As we looked around thinking there was a T-Shirt toss going on with 15 seconds remaining in the second quarter, the Aces were getting ready to take the ball out of bounds underneath their own basket and play was stopped.  Only for brief minute, as officials pretty much ignored there was an earthquake that reportedly registered 7.1 on the richer scale in the Vegas valley.
​After play resumed, the Aces couldn't get off a shot and we headed to halftime watching Laimbeer fuming toward the locker room.  He later said he didn't feel it and was focused on yelling at his team because he felt they weren't ready to play a big game like this.
​After halftime was extended to approximately 60 minutes to make sure the facilities and everyone was safe, the game was called by league officials and the game was officially suspended.
​Word spread via social media that the NBA Summer League suspended their games at the Thomas & Mack Center, so officials at the Mandalay Bay did the same.  It was one of the stranger nights and evenings of basketball in Las Vegas as no one could recall something like this happening before.
It was better to play it safe since one day earlier the area was hit with a similar tremor.  No word on a makeup date at this time but luckily for the Aces they only felt slight vibrations of the earth and not an avalanche in the second half of Mystic proportion.
It's that time of year when we get to really see which NFL teams look like they could go far in the playoffs. Stanford Routt is a former NFL cornerback and one of our Raiders insiders. He...

Read More
It has been a pretty rough season for UNLV football, coming off three straight losses and losing their bowl eligibility. Caleb Herring, the color analyst for the Rebels, checked in with us on Cofield & Co. and...

Read More
It's been a rough season so far for many fantasy leaguers. Dustin Dehart from Nova Home Loans joins us every week with his fantasy football picks and insight and just like many of us, he is going...

Read More