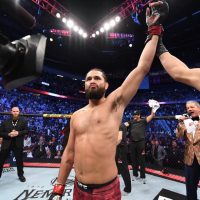 by: Helen Yee | @HelenYeeSports
UFC International fight week wrapped up with UFC 239 on Saturday, July 6 at T-Mobile Arena in front of 18,358 in attendance and a gate of $6,063,707.11.
Though many great fights and finishes took place, Jorge Masvidal made UFC history as he broke the UFC record for the quickest knockout. Five seconds was all it took for Masvidal to land the flying knee that took Ben Askren out.
My favorite flying knee KO of all-time was James Irvin VS Terry Martin

I said "was"

DAMN JORGE MASVIDAL!!! #UFC239 https://t.co/CwI8U51urL

— ???????????????? ???????????????????????? ™️ (@TommySledge) July 7, 2019
The previous record of 6 seconds was held by Duane Ludwig.
In five seconds, Jorge Masvidal (@GamebredFighter) records the fastest knockout in @UFC history. #UFC239

The previous record belonged to Duane Ludwig with his 6-second KO. pic.twitter.com/cKLFqFu6uh

— UFC News (@UFCNews) July 7, 2019
Leading up to the fight, Masvidal said the fight would end in violent fashion and afterwards, his coach Mike Brown posted a video of him practicing the flying knee just 48 hours prior.
48 hours before #ufc239 @GamebredFighter drilling the famous Paulino Hernandez flying knee pic.twitter.com/azeciCRp98

— Mike Brown (@mikebrownmma) July 7, 2019
His teammate at American Top Team and interim UFC lightweight champion, Dustin Poirier, also posted a previous message foreshadowing the outcome.
Mike brown and masvidal told me last night at dinner he was gonna Start this fight with a flying knee and showed me video on Mike's phone of him practicing

— The Diamond (@DustinPoirier) July 7, 2019
After the fight, Masvidal explained why he followed up with extra punches as Askren layed on the canvas motionless.
While he knocked out Ben Askren at #UFC239 with a flying knee, Jorge Masvidal (@GamebredFighter) says the follow up punches he landed after were "very necessary." Let him explain why.

Askren reacts to loss: https://t.co/UZux6HJghL pic.twitter.com/IcgMmnB39b

— MMA Junkie (@MMAjunkie) July 7, 2019
Masvidal now has back-to-back knockout victories but a title shot next remains unclear.
At the post-fight press conference, UFC President Dana White said no one is next in line for the title shot.
Though the title shot is uncertain for Masvidal in the immediate future, one thing is certain – he made UFC history.
photo credit: UFC News Twitter
Related News
UFC 241 took place on Saturday, August 17 at a sold-out Honda Center in Anaheim, California. The entire card delivered and also earned a new California record gate for MMA – $3,237,032.00. While there were so...

Read More
UFC 241 took place on Saturday, August 17 at a sold-out Honda Center in Anaheim, California. The entire card delivered and also earned a new California record gate for MMA – $3,237,032.00. While there were so...

Read More
UFC 241 took place on Saturday, August 17 at a sold-out Honda Center in Anaheim, California. The entire card delivered and also earned a new California record gate for MMA – $3,237,032.00. While there were so...

Read More