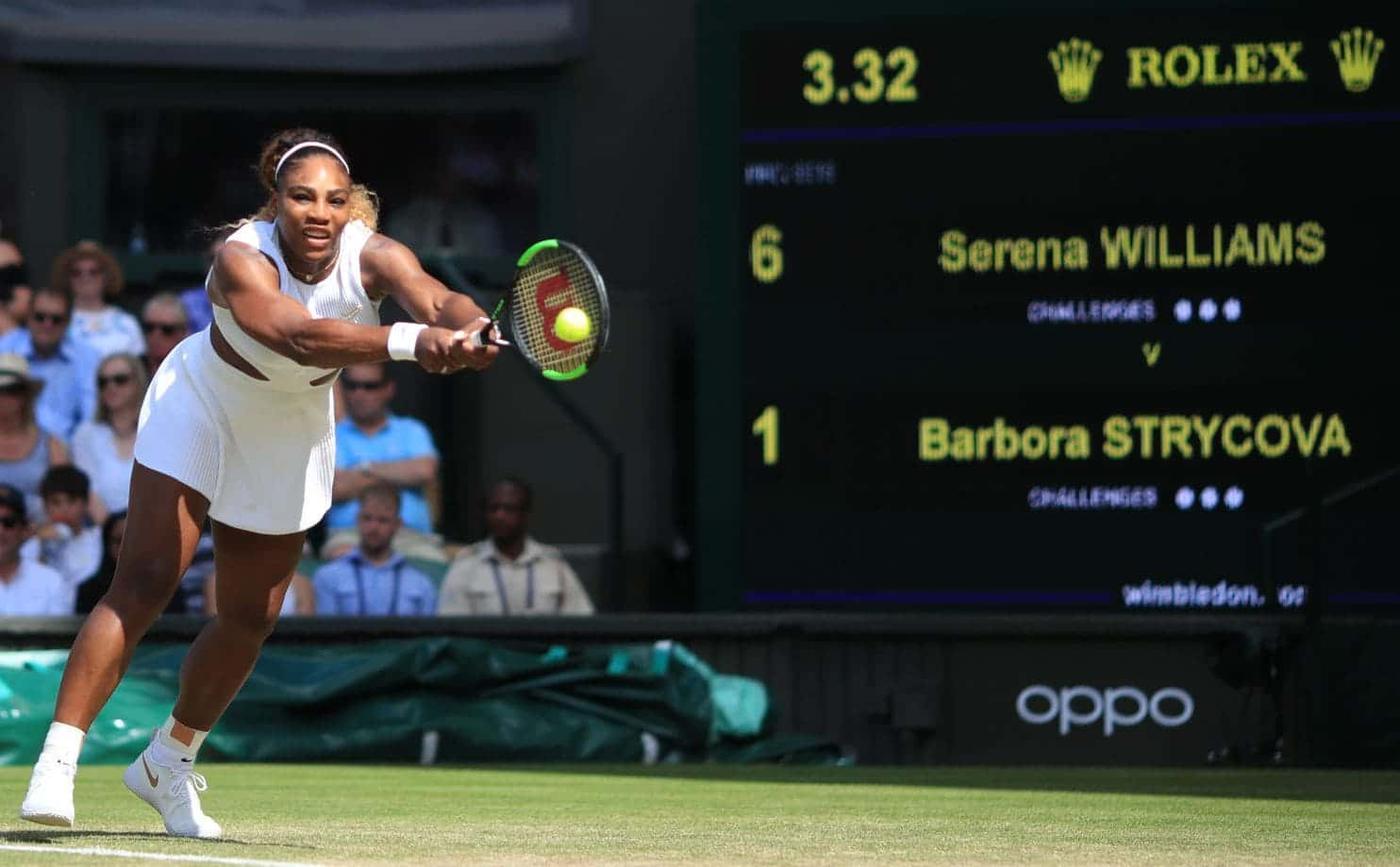 Serena Williams needed just 59 minutes to dismiss Barbora Strycova. (Adam Davy / AFP/Getty Images)
Serena Williams vs. Simona Halep 2019 Wimbledon Final
The 2019 Wimbledon women's tennis tournament saw top seeds dropping like flies right from the start when top seeded Naomi Oasaka lost in the first round. The semi-finals did however feature three seeded players out of the four ladies left. It seems fitting to me that on July 11, 2019 the seventh and eleventh seeds won to set up the women's Final. Simona Halep crushed the eight seed Elina Svitolina 6-1, 6-3 to reach her first Wimbledon Final and Serena dismantled unseeded Barbora Strycova 6-1, 6-2 to reach her eleventh Wimbledon Final. Serena is looking for her tenth Wimbledon Championship and 24th Grand Slam Title which would tie her with Margaret Court for the most in the history of Women's Tennis.
At 37 Serena becomes the oldest woman to reach the Final of a Grand Slam Event in the Open Era. It will also be the 32nd Grand Slam Finals for Williams tying her with Martina Navratilova for the second most ever. Chris Evert holds the Finals appearance record reaching 34 Grand Slam Women's finals in her career.
Simona Halep will be seeking her second Grand Slam Championship and first at Wimbledon. She won the French Open in 2018. It will be her fifth Grand Slam Finals appearance. She lost in the Finals of the Australian Open once and twice at the French Open. Halep has been ranked Number One for 64 weeks during her career and has won 18 WTA Title's. She is currently ranked seventh in the world.
The Wimbledon women's tournament was filled with upsets but in the end two of the best ever are facing off for the Championship. Serena will be a big favorite holding a 9-1 head to head record against Simona but the match should be more competitive than the semi-finals were. It's the best we've seen Serena play in a long time and she looks ready to win. Simona Halep said "I'm desperate to win Wimbledon more than to stop her, I will focus on myself. I'm not thinking about her record." It's probably a good idea not to think about the head to head record as well if Halep wants to capture her first Wimbledon Crown.
If Serena is playing her best I don't think anyone in the WTA can beat her. I believe she will indeed make history and win her eighth Wimbledon and 24th Grand Slam Title. I have of course been wrong before and I will be again. I don't however think I'll be wrong about Saturday's match. I just hope it's a good match where both women play their best and the best player wins.