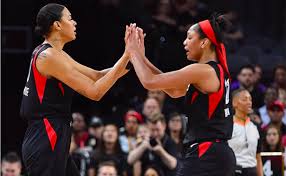 By: TC Martin
For those that haven't watched much WNBA basketball, when you see that the Las Vegas Aces have the league's best record at 10-5, you will be impressed.   If you are Bill Laimbeer and even the players, you feel slightly different.
​The Aces have won numerous close games, mostly against the bottom tier teams in the league.  Of their 10 wins, only one victory (Minnesota) has come against a team with a winning record.  To be fair only five of the 12 teams are above .500. It's not the league is bad but their is a lot of parity.
​At times, the Aces play with a tremendous flow to their game.  When they control the boards and get out and run, it's a beautiful to watch.  Then, there are those times when the offense comes to a complete halt and turnovers plaque them.   During the first 10 games of the season, they averaged 16 turnovers per game, which was last in the league.  They have taken better care of the ball lately, thus resulting in victories in six of their last seven contests.
"Grinding out wins is what we're trying to do right now," Said Laimbeer.  Speaking of their most recent victory, Tuesday against the Indiana Fever he said, "Today was a hard-fought game.  We didn't play well, but we got the win. That's the sign of a good team."
​The Aces will play arguably the WNBA's top team in the Washington Mystics (9-5) again on Saturday in the nation's capital.  The Mystics were here last Friday night in the "Earthquake Game."  The game was suspended at halftime with Washington leading   51-36.  No makeup date has been set.  Meanwhile, this will be a good barometer to see where Laimbeer's team is both mentally and psychically.
Here are some tweets from Jesse Granger with renderings of the proposed new home of the Henderson Silver Knights. Here are some renderings of the future Henderson Event Center, home of the AHL's Silver Knights. Courtesy of...

Read More
FOR IMMEDIATE RELEASE MAY 26, 2020 NHL ANNOUNCES RETURN TO PLAY PLAN FOR 2019-20 24 Teams Will Restart Play, Compete for Stanley Cup 2 "Hub" Cities Will Play Host to Games Protocol for Players' Return to...

Read More
Here are some links to resources that may help you stay informed and knowledgeable. https://nvhealthresponse.nv.gov/ https://www.cdc.gov/coronavirus/2019-ncov/index.html www.southernnevadahealthdistrict.org/coronavirus. https://sites.google.com/nv.ccsd.net/covid-19updates/home#h.au7wl6jpawt9 Also if you are able to help, threesquare is doing great work here locally in...

Read More