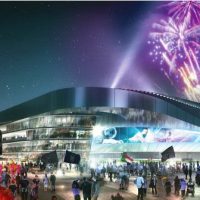 Major League Soccer has flirted with Las Vegas for years. But now might finally be the time the highest division of soccer puts down roots in Southern Nevada.
"We at MLS have been very interested in this city for almost 20 years," MLS Commissioner Don Garber said. "We remain very encouraged about this city, even more encouraged than ever before."
Las Vegas has two entities chasing an expansion franchise in MLS. A downtown plan led by billionaire Seth Klarman and Golden Knights owner Bill Foley's plan to put a team in the yet to be completed Raider Stadium.
Klarman's plan calls for a complete re-development of 62 acres around Cashman Field that would include a new soccer specific stadium. Foley would be a tenant in Raider Stadium.
Garber laid out what he wants to see in a potential expansion city.
"Will the market support the team to the level that we expect?" Garber said. "To ensure that our league can grow and have popular teams that matter and are relevant in the community. A lot of that is based on ownership, and that is combined with venue and then support from the public sector and obviously, but not least importantly, is what kind of fan support (exists)."
The downtown plan would seemingly check all three boxes for Major League Soccer.
The ownership would be backed by the hedge-fund manager Klarman, who is worth over $1 billion. The new stadium would be a 25,000 seat soccer specific stadium where the MLS team would be the primary user.
For fan support, the downtown plan would elevate Las Vegas Lights FC from the second division United Soccer League. Lights FC draws the fifth highest attendance in the USL at 7,806 at Cashman Field, which holds 10,000.
Would that number translate to enough support to ensure the team is popular and relevant is where Major League Soccer has to make their decision.
This hypothetical situation paints Las Vegas in a favorable spot to land an expansion franchise, but it is just that: hypothetical.
Seth Klarman's Renaissance Group is currently in a 180-day negotiating window with the city of Las Vegas to acquire the land downtown. If they do not come to an agreement, this plan would be off the table.
But if the city and Klarman agree, the land will be his, as will Las Vegas Lights FC. Team owner Brett Lashbrook has agreed to sell the team if a deal is reached with the city.
The uncertainties sit on MLS' side as well. The league has announced that they will expand to 30 teams. There are currently 24 teams competing in the 2019 season with three more teams already added for the future. Plus, Sacramento and St. Louis have been given exclusive negotiating rights for the 28th and 29th spots; leaving just one more opening.
While MLS may expand beyond 30 in the future, the window of opportunity to get an MLS team now is small.
JT THE BRICK TALKS TO VEGAS GOLDEN KNIGHTS GM, KELLY McCRIMMON ABOUT THE FIRING OF GERARD GALLANT, THE UPCOMING TRADE DEADLINE, AND MORE…...

Read More

JT THE BRICK WITH KELLY McCRIMMON 01/29/20

JT The Brick
Las Vegas Raiders President Marc Badain joined The Press Box Morning Show, with Clay Baker and Ryan McKinnell, and expounded on the busy week as they officially announced the new team logo and team name, Las Vegas...

Read More
All Golden Knights fans will be able to place a $50 per seat season ticket deposit beginning now by visiting http://vgk.io/ahl-vegas. Season ticket deposits are refundable. Current Vegas Golden Knights ticket members who place a deposit will...

Read More