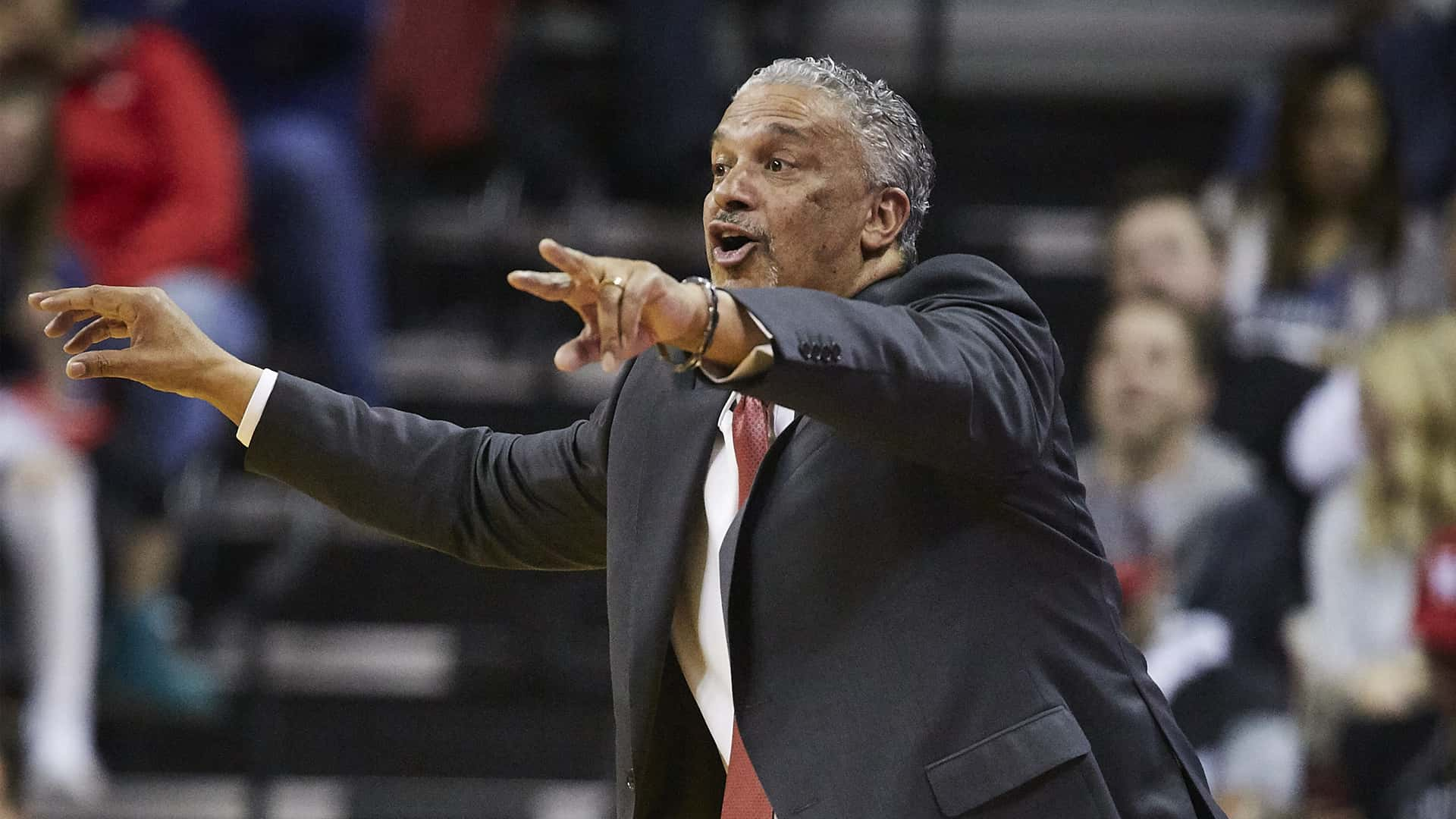 In his three years as head coach at UNLV, Marvin Menzies handed out one scholarship to a high school recruit from Las Vegas.
Now that he is gone, the high school scene has collectively let everyone know how little Menzies recruited the Las Vegas area, and how frequently T.J. Otzelberger and staff are checking in.
Coronado head coach Jeff Kaufman told the Las Vegas Sun: "It's a whole different world. I have nothing bad to say about the last group (former UNLV coach Marvin Menzies). Menzies was Menzies. But T.J. has been here as many times as he could be here in his first months. Kruger has been here I don't even know how many times. I talked to Kruger twice today. They call, they text. T.J. called me the other night; it was 11 p.m. and he was just checking in. As a high school coach who's been in Las Vegas his whole life, it really makes you want to help them and really want to get kids to UNLV because you understand the kids are going to be successful."
Kauffman continued: "Unfortunately, the last staff wasn't focused on getting the local kids, so you don't just lose the local kids that are eligible to play in college, you lose the kids that are coming through the pipeline behind them."
Kauffman is not alone. Donovan Yap, a 2020 guard from Arbor View that is being recruited by Otzelberger made it known how much a difference he has felt since the coaching change.
"The last staff were kind of recruiting me, but I don't feel like they were recruiting me hard. But as soon as coach T.J. and coach Slocum and the new coaching staff came, that's when I got the offer right away. They were really looking forward to building a relationship with me, my mom, my dad, my family, trying to get me on a visit. It definitely picked up after they took over at UNLV," Yap told the Las Vegas Sun.
And prior to Yap's comments, one of the newest UNLV commits, Nick Blake sounded off in a similar manner.
"The last coaching staff, I wouldn't say they didn't recruit Las Vegas kids, but I just didn't feel like they recruited them hard enough," the former Durango High School player said to the Las Vegas Sun. "Going back to the 2016 class to 2018 there were a lot of good players, and more should have stayed home. And I feel they would have if other coaching staffs had made an effort. I feel like this coaching staff isn't going to let that be an excuse, and they've really gone out there and gotten to know so many kids in the valley. And I believe that's going to be a key to getting UNLV back to where it was."
T.J. Otzelberger has been the head coach at UNLV on March 27. In a little over three months, one local coach and two local players have gone out of their way to illustrate the differences in recruiting priority.
With Nick Blake's commitment, Otzelberger has already matched Menzies' local high school recruiting tally. Yap and Coronado's Jhaylon Martinez are expected to commit this summer and could give Otzelberger a 2020 recruiting class loaded with locals if they choose UNLV.
Menzies did bring a pair of Bishop Gorman alums in Noah Robotham and Nick Blair back to Las Vegas as transfers. Plus, he gave a walk-on spot to Foothill's Marvin Coleman, who Otzelberger has since placed on scholarship along with Blair.
So the Menzies era was not completely devoid of local players, but he certainly left with a bad reputation in the local high school scene. His tendency to prioritize lightly recruited international players over local products proved to be a consistent theme.
He landed a major star in Pascal Siakam with this strategy at New Mexico State. And at UNLV, Joel Ntambwe could have developed under Menzies into star players in the Mountain West. But overall the limitations and redundancies of players like Mbacke Diong, Cheickna Dembele and Jonathan Tchamwa Tchatchoua left UNLV with a roster lacking in versatility and shooting.
Recruiting locally does not mean Otzelbeger will find success at UNLV. His current 2020 class features two commits, Blake and Isaac Lindsey. Blake is outside the top 150 and Lindsey is unranked in the 2020 class according to 247 Sports. With Yap (ranked 271) and Martinez (ranked 190) possibly committing to UNLV soon, Otzelberger would have a class full of locals, but short on top 100 players.
But at the very least, Otzelberger has won over the locals.
(Shoutout to Mike Grimala for working the recruiting scene and securing all these quotes throughout the summer.)