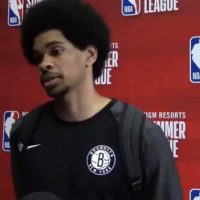 Brooklyn Nets defeated Detroit Pistons 105-85 on Saturday, July 13 at Thomas & Mack.
Jarrett Allen finished the game with a double-double of 30 points, 11 rebounds. The team now moves on to the semi-finals for the championship weekend.
Afterwards, Allen spoke about their win and his performance.
Video below.
UFC light heavyweight Dominick Reyes will be fighting Chris Weidman in the main event on Friday, October 18 in Boston. During fight week, Reyes spoke to Helen Yee about his upcoming fight. Video below....

Read More
Former UFC middleweight champion Chris Weidman will be making his light heavyweight debut this Friday, October 18 against Dominick Reyes in Boston. During fight week, Weidman spoke to Helen Yee about his upcoming fight, weight cut, and...

Read More
UFC featherweight Jeremy Stephens will be fighting Yair Rodriguez on Friday, October 18 at TD Garden in Boston. The two first fought in Mexico City on September 21 which led to a no contest due to an...

Read More