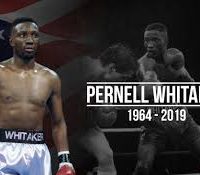 By: TC Martin
One of the greatest pure boxers of our time suddenly passed away last Sunday night at the age of 55.  Pernell "Sweat Pea" Whitaker was hit by an oncoming car while he was crossing an intersection in his hometown of Virginia Beach,  Virginia.
​The sad news punctuates some of the bad luck, Whitaker had as a fighter.  Although he is a boxing hall of famer, he is known for his hard luck battles.
In one of the sport's most controversial decisions, he thoroughly out boxed the legendary Julio Caesar Chavaz, who was 87-0 at the time, only to get a draw onthe judges scorecards. It was 1993 and they fought in front 60,000 fans at the San Antonio Alamodome.  They were considered the top two pound-for-pound fighters in the world.  It was one of the most famous scoring injustices that the Sports Illustrated Cover read "Robbed".
​"I mentally and physically beat him, " Whitaker said after the fight . "I put an old-fashioned project beating on him. A housing authority beating. A ghetto beating."  Everyone who saw the fight felt the same way.  He also fell victim to judges indiscretion, to a lesser degree in a loss to Oscar De La Hoya four years later.
Whitaker had many more memorable moments.  Fans connected with him at an early age when as a teenager, he won the hearts of Americans and fans worldwide by winning an Olympic Gold Medal in the 1984 Summer Games in Los Angeles.  His slick defensive style and aggressive offensive attack made him a fan favorite and then a world champion in four different weight classes as a professional.  He was the longest unified lightweight champion of all time and considered one of the top three lightweights in boxing history.
​He had a special soft side as well.  Until his death, he was a caring and funny individual.  His longtime promoter, Kathy Duva along with her late husband Dan remember when he would come over their house and play with their kids.  He even taught the Duva daughters how to play Craps on the living room floor.
​"Sweet Pea" will always be known as a master of the ring and for controlling a fight but more importantly, a person fans connected to because of his glowing personality and for fighting valiantly during a time when boxers didn't duck quality opponents.  Pernell Whitaker will be missed and always remembered.  Rest in Peace!
​
​
​
Coach Gallant Fired from VGK, Peter DeBoer hired  1/15/2020 Today Vegas Golden Knights woke up to the shocking news that VGK Head Coach Gerard Gallant along with assistant coach Mike Kelly were fired and former San Jose...

Read More
– @BenSGotz Interview On Gerard Gallant's Firing & Hiring Peter DeBoer and How Will #VGK Respond?   – YOUR CALLS & REACTION To The Gallant Firing, How Surprised Were You?   – Doesn't Pete DeBoer's Hiring seem a...

Read More

Hour 2 Ben Gotz Int on Gallant Firing, Your ...

The Pressbox
All Pro Fullback Lorenzo Neal joined the Pressbox to explain how he convinced Chuck Liddell to start fighting, that Ray Lewis was afraid of him and how he basically blocked for every thousand yard rusher from...

Read More