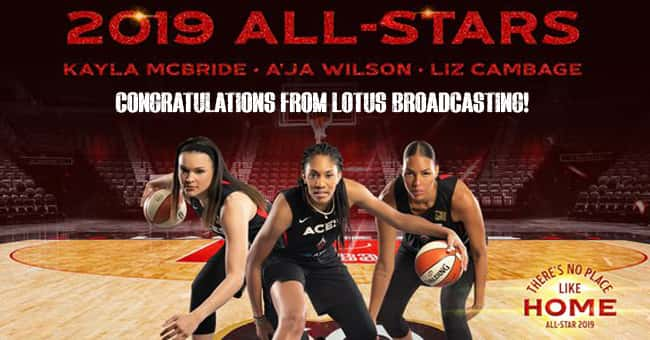 Las Vegas got a big win today over a formidable opponent, the Minnesota Lynx, to improve to 12-6. A'ja Wilson's absence was felt, especially in the 2nd half, but the ladies pulled it together for a much needed 79-74 victory. Las Vegas mostly played well as a team, but it was Liz Cambage who shined the most in today's Aces win.
???? ABSOLUTELY NOT ????@ecambage | #DoubleDown ♦️♠️ pic.twitter.com/ZBYLp1GSG4

— Las Vegas Aces (@LVAces) July 21, 2019
The big question around town has been whether or not The Aces can win without A'ja. The answer is yes. Wilson contributes so much to the team, on and off the court. And she may be the most important player on the team, but don't think for a second that The Aces aren't already very talented without her. Liz Cambage was all over the ball today, scoring 22 points and 13 rebounds, including some big shots in the 4th quarter.
How many ✋ are in Liz's face?@ecambage | #DoubleDown ♥️♠️ pic.twitter.com/Z42VAMQ6uT

— Las Vegas Aces (@LVAces) July 21, 2019
With Dearica Hamby proving her worth as starter, significant help from Kayla Mcbride, Kelsey Plum, and a strong effort from the bench, Las Vegas proved that they are the truth. According to Head Coach Bill Laimbeer, Wilson will be out "indefinitely". There's no reason this current roster shouldn't be able to continue winning and still get the team to the playoffs. Hopefully just in time for a well-rested Aja Wilson to return and give The Aces the push they need to become champions.
Las Vegas Aces will take on The Seattle Storm this Tuesday, 7 pm at Mandalay Bay Events Center. You can listen to the game on your Home for Aces Basketball, ESPN Las Vegas, or live stream all the action on LVSportsNetwork.com.