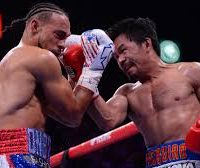 By: TC Martin
Manny Pacquiao displayed once again that age isn't nothing but a number.  The 40 year old senator from the Philippines out-punched and out-classed a younger Keith Thurman earning a split decisions victory in front of a partisan Pacquiao crowd of 14,356 at the MGM Grand Garden Arena
​The fight played out as expected with Pacquiao throwing volumes of punches with his hand speed and power being the difference.  Pacquiao started fast and floored Thurman with a straight right hand sending him to the canvas.  The effects of that knockdown caused Thurman to re-think his game plan of coming forward.  He lost the first five rounds on judge Tim Cheatham's scorecard while Dave Moretti and Glenn Feldman gave Pacquiao four of the first five rounds.
Thurman came back in the middle portion of the fight winning rounds six thru nine but Pacquiao closed the show with a flurry nearly putting him down again in the 10th, proving his style and determination was too much for Thurman.
​Pacquiao was fluent with his combinations and angles throwing a total of 686 punches compared to 571 for Thurman.  Although the champion was caught with a few hard shots, he never stopped coming forward and continued to rally after being hit.  Pacquiao's trademark footwork and conditioning were on full display and he was clearly the better and more polished fighter.
​The only controversy in the bout came when ring announcer, Jimmy Lennon Jr said "We have a split decision."  Moretti and Cheatham's cards were accurate, each having it 115-112 for Pacquiao but Feldman scoring  it 114-113 for Thurman was shocking.  Luckily, it didn't affect the outcome.
​Pacquiao now improves to 62-7-2 and will await the winner of the upcoming Eroll Spence Jr – Shawn Porter Welterweight title bout taking place on September 28th in Los Angeles.  In the meantime, the senator will go back to work in the Philippines and fight early next year.
​
Here are some tweets from Jesse Granger with renderings of the proposed new home of the Henderson Silver Knights. Here are some renderings of the future Henderson Event Center, home of the AHL's Silver Knights. Courtesy of...

Read More
FOR IMMEDIATE RELEASE MAY 26, 2020 NHL ANNOUNCES RETURN TO PLAY PLAN FOR 2019-20 24 Teams Will Restart Play, Compete for Stanley Cup 2 "Hub" Cities Will Play Host to Games Protocol for Players' Return to...

Read More
Here are some links to resources that may help you stay informed and knowledgeable. https://nvhealthresponse.nv.gov/ https://www.cdc.gov/coronavirus/2019-ncov/index.html www.southernnevadahealthdistrict.org/coronavirus. https://sites.google.com/nv.ccsd.net/covid-19updates/home#h.au7wl6jpawt9 Also if you are able to help, threesquare is doing great work here locally in...

Read More