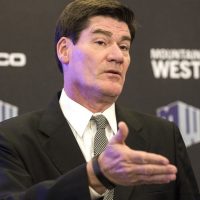 It's that time of the year again when the Mountain West holds it's annual Football Media Day in Las Vegas and hope springs eternal for every team, as well as, for Commissioner Craig Thompson.  For nearly 21 years, Thompson has over seen many changes in College Football yet, still the same challenge: Revenue.  
Beginning in 2020, the MWC needs to find the correct mix between online platforms and traditional-network models to funnel more money into it's member schools; which now only get $1.1 Million Dollars (not including Boise State and Hawaii) annually.  So what is a Commish to do and not take a leap to stream it all online? Thompson sat down with the Press Box Morning Show with Ed and Clay and explained.  
"I don't know if we can get there right now but we want to go shorter now to explore it more, so expect the online component in conjunction with the traditional broadcasts".
Thompson also remarked that he's been in Las Vegas a lot lately, considering he's on the NCAA Men's Basketball Selection Committee and they've been reviewing the new venues such as the Raiders Stadium.  "We were just here ten days ago and we had a chance to tour the UNLV/Raiders Stadium and T-Mobile. I don't think I'm going on a limb here but you can expect in the next three to five years, there will be NCAA basketball in town. "
When asked about the potential for a Final Four, Thompson stated, "The biggest challenge will be the translucent roof and what they need to do to cover it.  If you remember in Minneapolis, they spent almost $5 Million to put blackout curtains over those windows (to control the sight lines in sunlight). Facility-Wise, it's phenomenal…also, there are 147,000 hotel rooms within 2 miles of the facility, which is perfect". 
LISTEN BELOW
Las Vegas Aces star A'ja Wilson joined Steve Cofield and Adam Hill to talk about how she has been staying busy during quarantine and what the WNBA and the Aces have planned for the upcoming season. Twitter...

Read More
Raiders LB Javin White joined Steve Cofield and Adam Hill to discuss what it was like going from playing for UNLV to getting picked up by the Raiders as an unrestricted free agent. Photo courtesy of unlvrebels.com...

Read More
Raiders FB Alec Ingold joined Steve Cofield and Adam Hill to talk about the excitement of living in Vegas and playing for the Raiders in their first official season in town. Twitter – @AI_XLV Photo courtesy of...

Read More