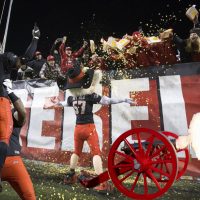 Despite the Mountain West Preseason Football poll which projected UNLV to finish in 5th place inside the West Division, only above San Jose State,  Head Football Coach Tony Sanchez doesn't appeared to be upset by the low ranking.
"We're going to grin and laugh about it.  Last year we were picked third and we're better team this year.  Two of the teams picked ahead of us this year, we were able to beat last year.  The margin between all these teams is splitting hairs."  In fact, the Rebels lost three games by a touchdown or less in their last nine games, but it also won two of its four games in close calls at the end.  
On QB Armani Rogers:
"The biggest thing with him is that he's a dual threat guy.  We have to be smart on how we use him.  Max Gilliam will be out with an injury for a couple of weeks and now Kenyon Oblad will get a chance to prove himself at the Number 2 spot."
On The Defense:
"This is by far our most talented group.  Linebacker depth is at an all-time high along with the defensive line"
On Expecting Bowl Eligibility:
"We've talked about being Bowl eligibility ever since I got here.  It's something that has eluded UNLV for years, they've only been four times in fifty years.  We're not worried one minute about it.  I could care less.  We're just going to go out and win a bunch of football games".
Coach Sanchez sat down with The Press Box Morning Show with Ed Graney and Clay Baker, live, from Mountain West Media Day at GVR – here's the entire interview.
Las Vegas Aces star A'ja Wilson joined Steve Cofield and Adam Hill to talk about how she has been staying busy during quarantine and what the WNBA and the Aces have planned for the upcoming season. Twitter...

Read More
Raiders LB Javin White joined Steve Cofield and Adam Hill to discuss what it was like going from playing for UNLV to getting picked up by the Raiders as an unrestricted free agent. Photo courtesy of unlvrebels.com...

Read More
Raiders FB Alec Ingold joined Steve Cofield and Adam Hill to talk about the excitement of living in Vegas and playing for the Raiders in their first official season in town. Twitter – @AI_XLV Photo courtesy of...

Read More