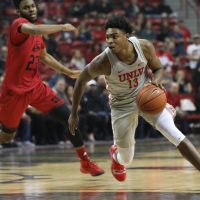 Bryce Hamilton was the highlight of the 2018 recruiting class, but he never made his mark on the Runnin' Rebel program in his freshman year.
He averaged just 4.93 points per game while shooting a team worst from both three-point range (29.6%) and two-point range (41.5%) among players with at least 25 attempts.
Hamilton told the Las Vegas Sun that shooting is one of his primary points of emphasis this offseason.
"The coaches have a game plan for everyone individually. We get up extra shots, get up 150 a day. Shooting is the main focus for next year so that's what I've been working on, mostly. It's coming along really well," Hamilton said.
Last season he consistently settled for mid-range jumpers, but he did show a skill set that could prove to be valuable to T.J. Otzelberger.
In 2018-19 Hamilton was limited to a complimentary role. The majority of his shots came in spot up situations where his teammates created an open shot.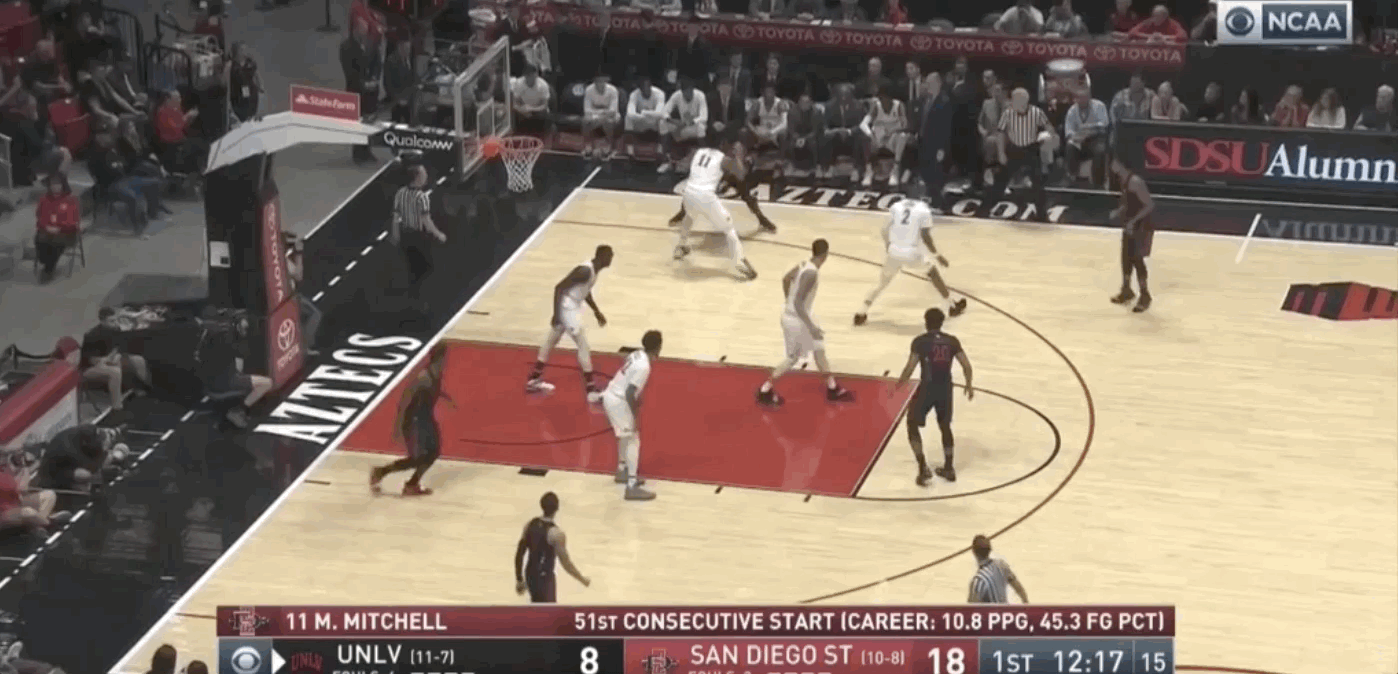 Joel Ntambwe breaks down the defense, and when Hamilton's defender rotates to Noah Robotham, Hamilton gets an open look from three.
Hamilton did not shoot well enough to earn the respect of defenses. His 29.6 percent mark from beyond the arc was well below the college average of 34.4 percent.
He doesn't need to become a knock-down shooter, but he needs to approach the national average to assure defenses respect him on the perimeter.
Even with his poor shooting, defenders were often aggressive to close out to Hamilton. That is where his best skill as a freshman popped. Hamilton was excellent at reading over aggressive close outs. He would often pump fake or simply hesitate and watch the defender put himself out of position.
Here we see the best and worst of Hamilton in 2018-19.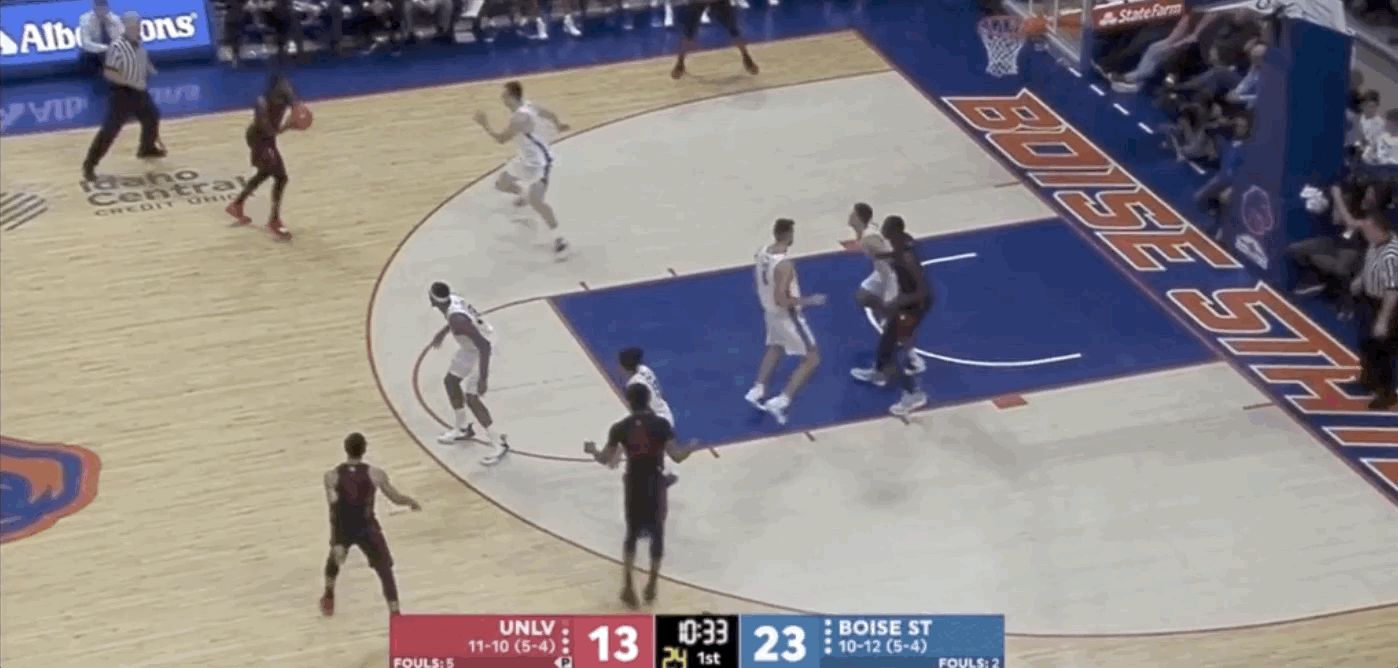 First the positive. Hamilton beats the close out with a slight hesitation. This breaks down the defense and causes Boise State to help and rotate. Having someone that can force a secondary round of defensive rotations can be extremely valuable.
In T.J. Otzelberger's first season, Amauri Hardy will be the primary ball handler. Hamilton will frequently find himself in spot up scenarios. If Hardy drives and forces the defense to help and rotate, Hamilton should have plenty of opportunities against hasty closeouts.
Now the negatives of that play. Hamilton beats the closeout, forces the big man to help and he immediately settles for a mid-range jumper off the dribble – the least efficient shot in basketball.
And this plagued Hamilton's efficiency, as 63 percent of his two-pointers were mid-range jumpers. He rarely got to the rim in the halfcourt; most of his layups came in transition.
Hamilton made just 26.8 percent of those mid-range jumpers, worse than his abysmal three-point percentage.
Back to the pull-up jumper against Boise State. As the defense rotates, there are two passes Hamilton should be able to make: a bounce pass or a lob to Mbacke Diong. Diong is in perfect position under the basket and he has a guard sealed off behind him.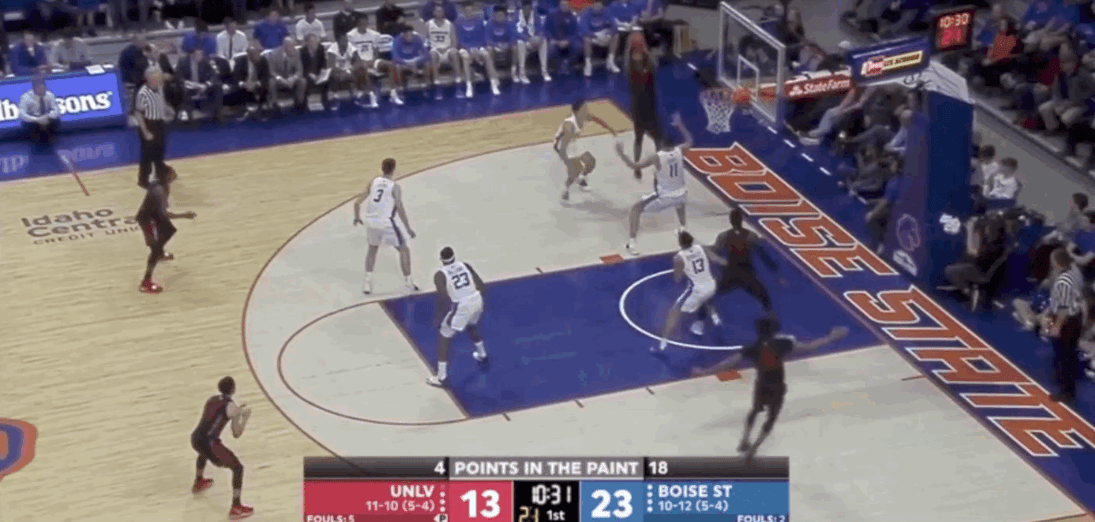 Hamilton's ability to beat the closeout should have resulted in a layup for Diong. But Hamilton took the inefficient shot instead.
One other side note from that gif: In an ideal world, Nick Blair would be in the corner providing optimal spacing and creating another passing option in a pass down the baseline for a corner three. But Marvin Menzies offense often saw players wonder into the paint for no reason creating unnecessary blockades.
Because Hardy and Noah Robotham were the primary ball handlers last season, we did not see much of Hamilton in a primary role on offense. He was mostly relegated to transition and spot up opportunities.
When he did get a ball screen, it usually came through UNLV's continuity ball screen offense that became more prevalent in Mountain West play. There was one concerning trend for Hamilton.
He never attacked switches.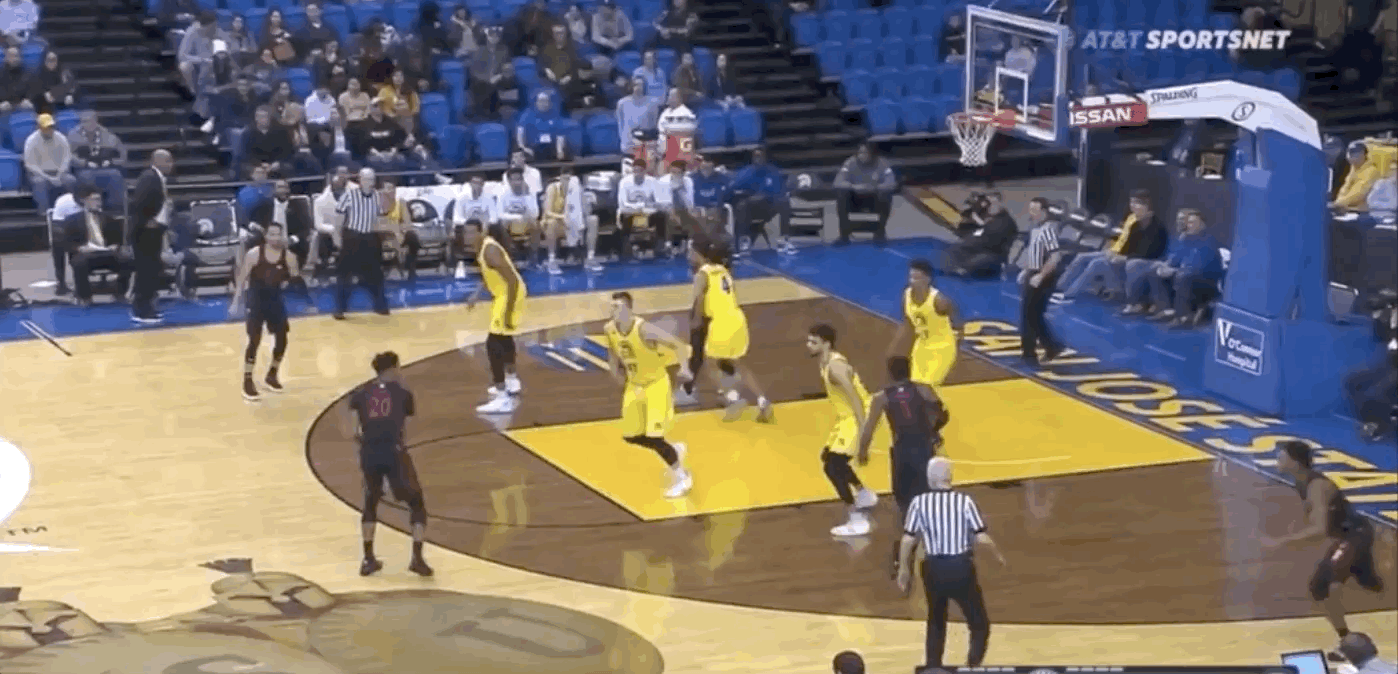 San Jose State's ball screen coverage calls for a switch. It means a guard is now on Nick Blair and a big is on Hamilton.
This is a mismatch that should be exploited. It is an offensive philosophy that Otzelberger has already talked about in regards to post ups.
"It's about taking a player with talent and putting him in space against a defender that he has the advantage against. We'll continue to implement that strategy and philosophy," Otzelberger said.
Hamilton may never be the primary weapon on offense with Hardy and eventually David Jenkins dominating the ball. But if he gets a center switched on to him on the perimeter, he has exploit that mismatch. Beating a big man off the dribble can break a defense, as now someone has to help in the paint that likely is not a shot blocker.
To be fair to Hamilton, it appears he was not instructed to exploit the mismatch, but rather look inside to Jonathan Tchawma Tchatchoua, who had a guard defending him earlier in the possession.
There is reason for optimism with Hamilton's ability to take player's off the dribble. This was one of his most impressive plays of the season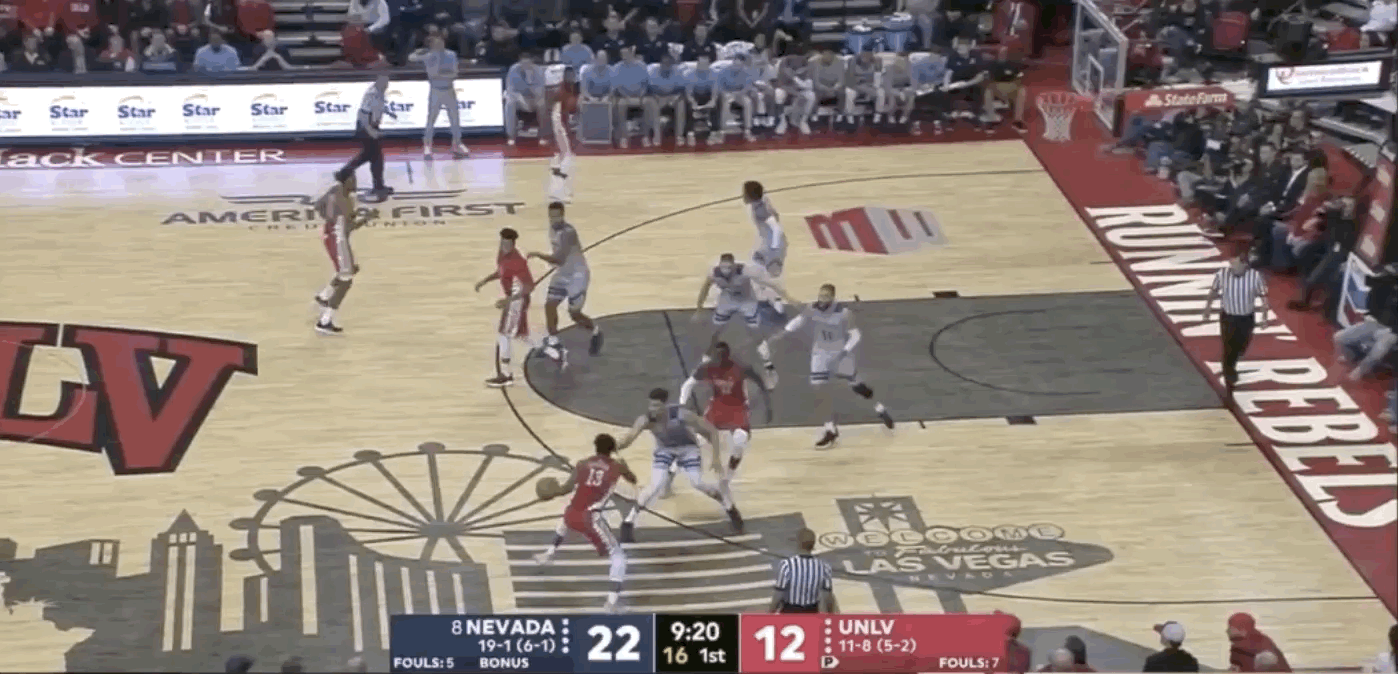 He creates space two separate times. First with the step back and then after his spin move in the lane. That is what he should be doing if a lumbering center gets switched onto him. That can be an important secondary creation of offense for the Rebels.
Overall Hamilton was one of the least efficient players in the Mountain West last season. He ranked 75th in (out of 91 Mountain West players with 100 possession ending plays) in individual points per possession. Even on his own team he was buried down to 8th best among UNLV's 9 players with 100 or more possessions.
There is an abundance of potential for Hamilton under Otzelberger, but his decision making and shooting percentage will have to see drastic improvements if Hamilton will be UNLV's secondary offensive weapon.
Here are some tweets from Jesse Granger with renderings of the proposed new home of the Henderson Silver Knights. Here are some renderings of the future Henderson Event Center, home of the AHL's Silver Knights. Courtesy of...

Read More
FOR IMMEDIATE RELEASE MAY 26, 2020 NHL ANNOUNCES RETURN TO PLAY PLAN FOR 2019-20 24 Teams Will Restart Play, Compete for Stanley Cup 2 "Hub" Cities Will Play Host to Games Protocol for Players' Return to...

Read More
Here are some links to resources that may help you stay informed and knowledgeable. https://nvhealthresponse.nv.gov/ https://www.cdc.gov/coronavirus/2019-ncov/index.html www.southernnevadahealthdistrict.org/coronavirus. https://sites.google.com/nv.ccsd.net/covid-19updates/home#h.au7wl6jpawt9 Also if you are able to help, threesquare is doing great work here locally in...

Read More