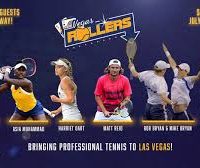 Vegas Rollers WTT
The Vegas Rollers World Team Tennis Team lost their match to the San Diego Aviators 23-18 Sunday night dropping their record to 4-7 for the season. With only three matches left the Rollers chances of making the WTT Playoffs which start Friday August 3, 2019 at The Orleans Arena are looking doubtful. The Playoffs will take place Friday and Saturday at the Orleans with the Top Four Teams battling it out for the Championship. Vegas will host The Washington Kastles tonight (Monday) along with The Orlando Storm Tuesday before wrapping up the regular season against The Springfield Lasers Wednesday in Missouri.
Only four teams make the WTT Playoffs and Vegas would have to pass three of them to get into the Playoffs. Philadelphia, Springfield, San Diego and New York are currently the four teams that would be in the playoffs if they started today. The Rollers lost their first match to Orlando 21-20 on the road before their first win of the season where they beat Washington 22-18 to even their record at one and one. Vegas has gone three and six since that time with Washington being the only team trailing The Rollers. The Kastles are at the bottom of the WTT with a record of 2-9. Philadelphia has the best record in WTT and look like they will be the number one seed in the playoffs.
The Vegas Rollers have been competitive in most of their matches but frequently its one bad Set that has cost them the match. In the match against San Diego the Women's Doubles team lost their Set 5-1 and made winning the match almost impossible. They were leading the match by a point after the first three sets but after the ladies lost, Vegas went down three with only one Set remaining. WTT uses a cumulative scoring point system so every game counts. When one Set gets dominated by a team, you could actually win the match four sets to one and still end up losing the match on cumulative score.
If you're a tennis fan try to make it out to the Orleans Arena this week to watch professional tennis LIVE. It's a different more laid back atmosphere that the players seem to enjoy and the crowd really gets into it. The Rollers feature players Asia Muhammad and Sam Querrey from Las Vegas along with other talented players and music star and entertainer Redfoo is one of the coaches. Las Vegas is a Major League City and the Vegas Rollers WTT is their newest Pro Team. Games tonight and Tuesday are at 7p. The Playoffs this weekend are at 3p Friday and 4p Saturday.
JT THE BRICK TALKS TO VEGAS GOLDEN KNIGHTS GM, KELLY McCRIMMON ABOUT THE FIRING OF GERARD GALLANT, THE UPCOMING TRADE DEADLINE, AND MORE…...

Read More

JT THE BRICK WITH KELLY McCRIMMON 01/29/20

JT The Brick
Las Vegas Raiders President Marc Badain joined The Press Box Morning Show, with Clay Baker and Ryan McKinnell, and expounded on the busy week as they officially announced the new team logo and team name, Las Vegas...

Read More
All Golden Knights fans will be able to place a $50 per seat season ticket deposit beginning now by visiting http://vgk.io/ahl-vegas. Season ticket deposits are refundable. Current Vegas Golden Knights ticket members who place a deposit will...

Read More