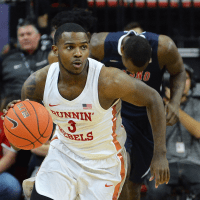 With Donnie Tillman signed to be a Runnin' Rebel, T.J. Otzelberger's first year roster is full. And it could be a challenger in the Mountain West. 
The top two eligible players on the roster project to be Amauri Hardy and Tillman. Hardy averaged 13.1 points per game last season and has a skill set that should thrive in a system based on spacing and shooting. Tillman put up 10.5 points per game last season in a power conference. 
Hardy should dominate the ball next season for UNLV. His ability to get into the lane will be the most valuable for the Rebel offense. Even though Otzelberger referred to Tillman as a wing in a statement, he will likely fill a role as a frontcourt player, at least nominally. 
After those two, projecting the rest starting lineup becomes difficult. It all depends on what type of lineup Otzelberger wants to play in year one. 
He has a couple of true centers in Mbacke Diong and Cheickna Dembele that could conceivably play 30-40 minutes every night, giving UNLV a more traditional look. 
Or Nick Blair and Vitaliy Shibel provide potential options as shooting frontcourt players. If they are paired with Tillman, UNLV could have decent size inside and shooting at all five positions. 
And then Otzelberger has three perimeter players with starting aspirations in Elijah Mitrou-Long, Jonah Antonio and Bryce Hamilton. All three could start in a four guard lineup, but more than likely two of the trio will be in the starting five. 
Mitrou-Long would seemingly have the edge to start, as he said he was promised the starting point guard position. 
"Coach TJ cut it straight. He told me that I am going to come in and be a starter, the starting point guard," Mitrou-long told Matt Perrault on 920 The Game.
Starting point guard will likely be in name only, as UNLV's offense will be the most productive with Hardy initiating the offense. But Mitrou-Long has shot 35 percent from three over a three-year career, giving him a valuable skill in Otzelberger's offense. 
So Mitrou-Long can be penciled in as a starter. 
Mbacke Diong also brings a valuable skill set, one that none of his teammates will likely provide: rim protection. Diong blocked 41 shots last season, the rest of teammates combined for 43 shot blocks at the Division 1 level.
The big question for this roster is how well they will defend, and Diong is the only player with an obvious defensive attribute. He may hurt the spacing, but his defensive presence will likely be too great to sit on the bench. 
That leaves a decision to be made between Jonah Antonio and Bryce Hamilton for the final wing spot. 
Hamilton struggled on offense as a freshman. He wasn't given many opportunities with the ball in his hands to create offense, and struggled to hit threes. He has potential, but for now, I am not sure what skillset he brings to the able. 
Antonio may prove to have just one skillset, but it is crucial to making this offense work. Antonio hit 34 percent of his threes as a freshman at Mount St. Mary's while shooting 8.3 threes per game. Last season he exploded to 41 percent from three-point range while still launching 7 per game. 
A spot shooter will be incredibly valuable to an offense expected to feature Hardy and Tillman getting into the paint. 
2019-20 UNLV Starting Lineup
PG Elijah Mitrou-Long
SG Amauri Hardy
SF Jonah Antonio
PF Donnie Tillman
C Mbacke Diong
UNLV should have a solid rotation as well. Bryce Hamilton will be the lead guard off the bench, with Nick Blair and Vitality Shibel providing options as stretch fours. Dembele is good cover for Diong as a true center and is good enough defensively to play in spots even with Diong fully healthy and not in foul trouble.
That leaves Marvin Coleman and Jay Green as the depth on the roster. But I would suspect one or both will see significant playing time in games this season. Otzelberger loves his guards and they project as the fifth and sixth options on the perimeter.
Any injury will see one of Coleman or Green thrust into a big role, and if UNLV plays a four guard lineup, they'll be the only two guards on the bench. 
The two have combined to play 108 minutes of college basketball and take 24 shots. Their skillsets are largely unknown. If either one proves to be an excellent shooter or defender, they could see playing time regardless of their teammates' health or Otzelberger's lineup. 
Here are some tweets from Jesse Granger with renderings of the proposed new home of the Henderson Silver Knights. Here are some renderings of the future Henderson Event Center, home of the AHL's Silver Knights. Courtesy of...

Read More
FOR IMMEDIATE RELEASE MAY 26, 2020 NHL ANNOUNCES RETURN TO PLAY PLAN FOR 2019-20 24 Teams Will Restart Play, Compete for Stanley Cup 2 "Hub" Cities Will Play Host to Games Protocol for Players' Return to...

Read More
We will go deep into the vault to bring you classic ESPN Las Vegas Videos.  Some of these videos are from over a decade ago. Frank on the NHL Awards red carpet from 8 years...

Read More