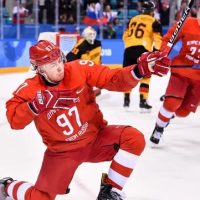 Nikita Gusev is gone from the Vegas Golden Knights.
The trade to the Devils still has lots of folks confused around Las Vegas.
On Cofield & Co., Brian Blessing from the Vegas Hockey Hotline shredded VGK for rushing into a deal, and not getting maximum return for the potential star from Russia.
The Devils paid Gusev $4.5 million per season, and gave up just a second and third round pick in the NHL Draft.
Blessing says VGK should've at least gotten a first round pick for the Russian prospect.
Photo courtesy NorthJersey.com
Video footage is very important when it comes to providing evidence in court. Nowadays, more and more people in society are being held accountable for their actions and we have the proof. Our Espn Las Vegas legal...

Read More
Video footage is very important when it comes to providing evidence in court. Nowadays, more and more people in society are being held accountable for their actions and we have the proof. Our Espn Las Vegas legal...

Read More
The Raiders are preparing for their first season in Las Vegas and the full roster is still being looked into. DE Jadeveon Clowney is now in the conversation as a possible acquisition for the Raiders. Former Raiders...

Read More