Newark is host to a big UFC welterweight title eliminator.
Grizzled veteran Robbie Lawler faces Colby Covington, the self-anointed "Peoples Champ."
Lawler, with 43 fights under his belt, is a plus-225 underdog.
Covington was once the holder of the UFC interim welterweight title belt.
He's also a massive fan of President Trump and often seen sporting his "Make America Great Again" hat arm in arm with beautiful women.
Is there extra intrigue on tap tonight? Maybe. Covington says Donald Trump Jr. will be in attendance.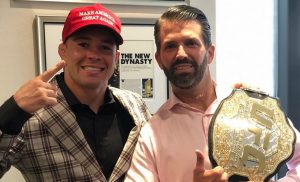 Photo courtesy Colby Covington Instagram page