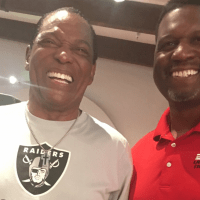 It was a somber Family Day at Raiders camp as the team's families were joined together in the remembrance of legendary wide receiver Cliff Branch, who died on Saturday.  In addition to several players and coaches wearing Branch's #21 jersey in practice to the special film session that featured the storied career of the 3-Time Super Bowl Champion.  
"Big family day that we are excited about. I'd like to just acknowledge that we are going to miss Cliff Branch. It was a terrible loss to the Raiders and to football and to everybody that knew him. A bunch of our players paid tribute to him today and our prayers are with him and his family, so that's a big loss for us.  When you are on an NFL team you can draw from the past and help you in the future, and sometimes you can use these guys. Just respect the players that came before you."
14 years in the league, all with the Raiders.  On a franchise full of legends, Cliff Branch is the only Raiders player in team history that was on each of the team's Super Bowl winning teams.  It goes on:
3 Time, All-Pro First Team

NFL Receiving Yards Leader (1974)

2 Time, Receiving TD Leader (1974, 1976)
In the post-season, Branch truly thrived.  During his three Super Bowl appearances combined, Branch caught 14 passes for 181 yards and three touchdowns.
Former NFL WR and fellow, former CU Buff, Mike Pritchard joined The Press Box and remarked on how Branch's career both on and off the field, impacted everyone he touched
Catch The Press Box Morning Show, 7a to 10a, Monday through Friday on ESPN Las Vegas. 
Related News
Las Vegas Raiders President Marc Badain joined The Press Box Morning Show, with Clay Baker and Ryan McKinnell, and expounded on the busy week as they officially announced the new team logo and team name, Las Vegas...

Read More
Las Vegas Raiders President Marc Badain joined The Press Box Morning Show, with Clay Baker and Ryan McKinnell, and expounded on the busy week as they officially announced the new team logo and team name, Las Vegas...

Read More
Boise St. recently signed a TV deal with the Mountain West Conference and there is a lot to unpack. BJ Rains is a Boise St. beat writer and he joined us on Cofield & Co. to discuss...

Read More