Cofield and Company was joined by fantasy sports radio and adult film royalty on Thursday.
Lisa Ann spoke to Steve about the Guinness World Record being sought at CH3 this Sunday night
Crazy Horse 3 is partnering with Cam Soda for a 24-hour charity pole dancing marathon which will attempt to set the Guinness World Record for "longest pole dancing party" hosted by adult porn stars Lisa Ann and Jayden Cole on Sunday, Aug. 11.
Starting around 7 pm on Aug. 11, Cam Soda will have someone pole dancing on the Posh stage non-stop for 24 hours.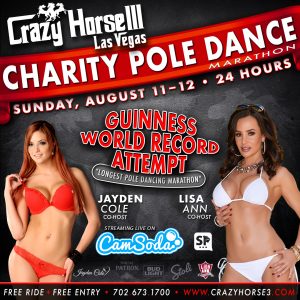 Photo courtesy SiriusXM
Can the Chiefs get past the Titans this weekend? Bob Fescoe covers the Chiefs for 610 sports radio and joined us on Cofield & Co. to give some perspective from KC on the big AFC championship game...

Read More
Can the Chiefs get past the Titans this weekend? Bob Fescoe covers the Chiefs for 610 sports radio and joined us on Cofield & Co. to give some perspective from KC on the big AFC championship game...

Read More
Can the Chiefs get past the Titans this weekend? Bob Fescoe covers the Chiefs for 610 sports radio and joined us on Cofield & Co. to give some perspective from KC on the big AFC championship game...

Read More