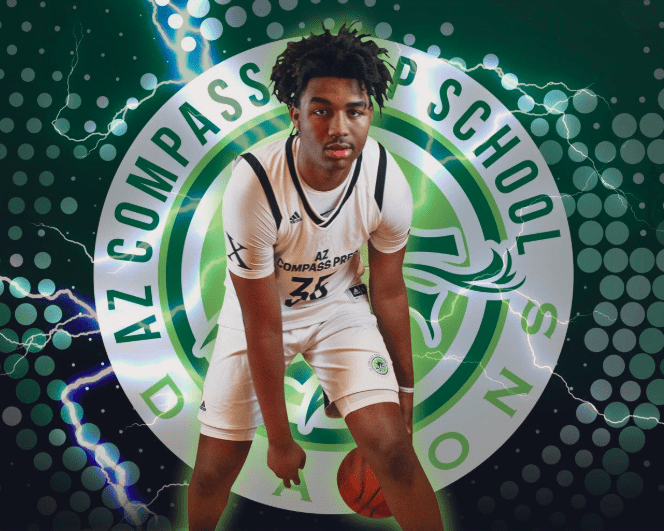 T.J. Otzelberger landed another local commit, as Jhaylon Martinez pledged his allegiance to the Rebels Friday night.
Martinez is a 6-foot-10 three star recruit in the 2020 class that attended Coronado High School last season. He has transferred and will play next season at Arizona Compass Prep.
Martinez could prove to be a key pick up for Otzelberger. At 6-foot-10 he can play the center position but still provide shooting. He has the same type of game that Mike Daum provided for South Dakota State. Daum won three Summit League player of the year awards under Otzelberger.
"They said they see me as playing like Mike Daum," Martinez told the Las Vegas Sun in June. "He would pick-and-pop and get shots and take it to the basket with his versatility, and they've seen me playing and they said I have the skill set for that because I can pass and shoot it as a big. Coach Otzelberger said my skill set fits the style he wants to play."
UNLV now has four commits in the 2020 recruiting class. Martinez joins Nick Blake, Isaac Lindsey and Donovan Yap in the next wave of incoming Rebels.
2020 Recruiting Class
Nick Blake (#161)
Jhaylon Martinez (#191)
Donovan Yap (#275)
Isaac Lindsey (Unranked)
*247 Sports Recruiting Rankings
Martinez's other top offers came from Colorado State, St. Mary's, Washington State.
Here are some tweets from Jesse Granger with renderings of the proposed new home of the Henderson Silver Knights. Here are some renderings of the future Henderson Event Center, home of the AHL's Silver Knights. Courtesy of...

Read More
FOR IMMEDIATE RELEASE MAY 26, 2020 NHL ANNOUNCES RETURN TO PLAY PLAN FOR 2019-20 24 Teams Will Restart Play, Compete for Stanley Cup 2 "Hub" Cities Will Play Host to Games Protocol for Players' Return to...

Read More
Here are some links to resources that may help you stay informed and knowledgeable. https://nvhealthresponse.nv.gov/ https://www.cdc.gov/coronavirus/2019-ncov/index.html www.southernnevadahealthdistrict.org/coronavirus. https://sites.google.com/nv.ccsd.net/covid-19updates/home#h.au7wl6jpawt9 Also if you are able to help, threesquare is doing great work here locally in...

Read More